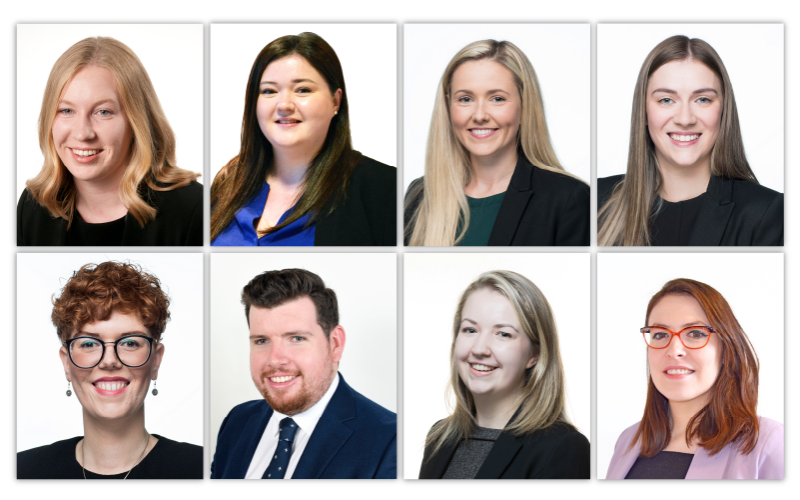 Full service Scottish law firm Thorntons has welcomed eight newly qualified solicitors across four of its offices following a two year traineeship.
Among the new recruits is Lindsey Cross who will join the Commercial Property and Insolvency team at Thorntons' Glasgow office.
Lindsey said: "As a full service firm, I have had the opportunity to work across a wide range of practice areas throughout my traineeship. This has been invaluable in terms of developing varied legal knowledge and experience with clients. Training and qualifying during a global pandemic has been challenging, but Thorntons has always focussed on doing what's right for its people, clients and communities and I have felt fully supported as a trainee solicitor.
"I'm absolutely delighted to be staying on with Thorntons as a Solicitor in the Commercial Property and Insolvency teams in Glasgow. I look forward to continuing my legal career with the firm and the new challenges ahead."
Thorntons' Edinburgh office will also welcome two newly qualified solicitors, Maria Gravelle in Employment and Immigration and Scott Douglas in Corporate and Intellectual Property. There will be three new recruits in Dundee – Angela Robertson in Dispute Resolution and Claims, Jillian McLaughlan in Employment, and Alex Dawson in Residential Property and finally, Chloe Anderson will join the Private Client team in St Andrews.
Colin Graham, Chairman at Thorntons, said: "Our vision is to be one of Scotland's most forward-thinking legal firms and we know that our trainees are the key to the future success of Thorntons. It is fantastic to welcome eight of our trainees, now newly qualified solicitors, to permanent roles within the firm.
"We aim to give our trainees a strong foundation for their career with hands-on experience, practical work and direct client contact from early on. I'd like to thank the senior team across the firm who have nurtured theses eight individuals. It's excellent to see the range of specialities they have chosen to pursue and I wish them all the best of luck in their careers with Thorntons."