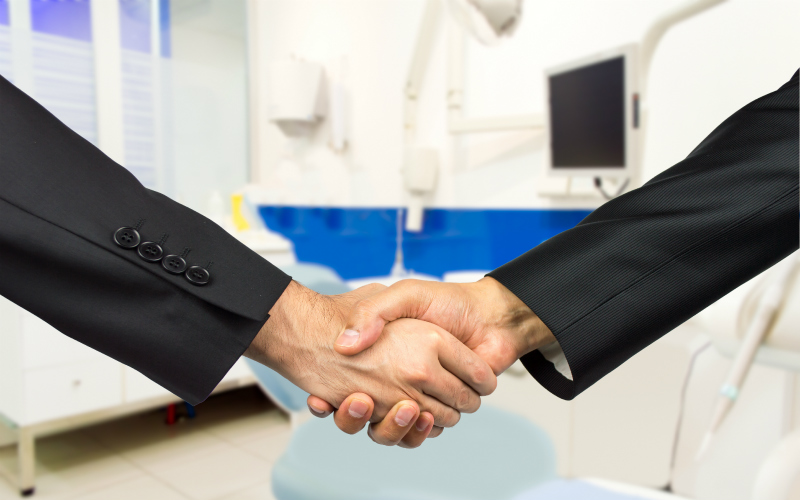 For many dentists, the idea of being your own boss and owning your own practice is the dream.  The dental market in Scotland continues to be strong, with goodwill values at a historic high.  This means that many dentists are looking to sell up (perhaps earlier than they would otherwise) with the result that more and more practices are becoming available.
We have of course been faced with the Covid-19 lockdown and its significant consequences for the profession. However, our view is that we won't necessarily see a significant change in the sale of practices, and indeed many potential sellers may be encouraged to retire earlier once some sort of normality returns.
We are increasingly approached by prospective purchasers who are keen to buy their first practice, but who don't really know where to start or what the process involves. Whilst exciting, the process involved in a practice purchase and the various strands to consider before taking that step can be overwhelming at times and a first time buyer often has lots of questions and concerns at the outset.
Here are some questions which we encounter on a regular basis and which will hopefully provide some clarity around the process generally and the issues to watch out for.
How do I know which practices are for sale?
Unless you are fortunate enough to be working in a practice where the principal is looking to sell (and is happy to disclose this to you and give you first refusal), then your best bet is probably the sales agents.  The majority of practices are marketed by sales agents these days, so it is therefore a good idea to register with all of the main agents so that you will receive details as and when practices come to the market. You are likely to find contact details for most of the agents in this magazine.
How will I fund the purchase?
In the majority of cases (unless you happen to have relatives who are far richer/more generous than mine are!), you will probably need to consider some form of bank loan.  This is not as scary as it sounds though – the majority of banks view the dental profession as a very safe sector in which to lend and, as a result, they will often go the extra mile to fund a purchase, even to a first time buyer. 
OK, so I have identified a practice and have a provisional offer of funding – what happens next?
The next step in practical terms is to appoint your professional team.  On this point, I cannot stress enough the importance of using solicitors and accountants who have a proven track record in the dental sector.  This will save you both time and money in the longer term, as advisers who know their way around the sector will be able to offer practical, pragmatic solutions to any legal issues that may arise.  They will also be able to submit an Offer document to a prospective seller, to note your interest and set out the key deal terms, but without committing you to anything at this stage.
Offer accepted – is it that simple?
Not quite.  If your initial offer is accepted, your professional team will then start the process of conducting legal and financial due diligence on the practice.  This is a process which involves looking into the practice in a bit of depth to ensure that everything is as it should be and there are no potential issues or problems waiting in the wings for you when you take over.  From a legal perspective, some of the key areas we look into are:-
Assets and Equipment – exactly what are you paying for? Is everything in working order or does anything need repaired?  Are there any assets that are subject to hire purchase or lease agreements?

Practice Inspection Records – when was the last practice inspection and did it result in any action points or recommendations? Have these been addressed satisfactorily?

Employees – are there written contracts in place with all of the employees and are these generally in order and legally compliant? Are there any grievances or disciplinary proceedings ongoing at the moment?

Associates – are there written contracts in place with the associates?  What percentage are they on currently?

Patients – what are the current number of registered NHS patients? Are there any private plans in place? Are there any historic or outstanding complaints from patients against any dentist in the practice?

The above is very much a summary of the main areas to watch out for – a proper due diligence exercise is far more thorough and will look at these areas in more detail. It is a process that can take a few months to complete, but from a buyer's perspective it is important to be comfortable with the affairs of the practice before going much further with the deal.
So how long does the process generally take, then?
Once the due diligence exercise has been completed, your solicitor will then start drafting the various legal documents and contracts required to legally complete your purchase.  The process of drafting and negotiating these can take a further few months, so in general we tend to say that a typical, straightforward purchase by an individual dentist from a selling dentist who is also an individual, can take anywhere between 4-5 months to complete.  However, this is by no means set in stone and each purchase will turn on its own circumstances.
Ultimately, whilst the process itself may seem daunting at times, buying a practice is a very exciting venture, and if you go into the process well prepared and with an experienced professional team, that should hopefully take a lot of the headaches out of the process and result in you having a much more positive experience. 
Insight from Michael Royden, Corporate Solicitor and specialist Dental advisor at Thorntons. For more information contact Michael on 03330 430350 or email mroyden@thorntons-law.co.uk.