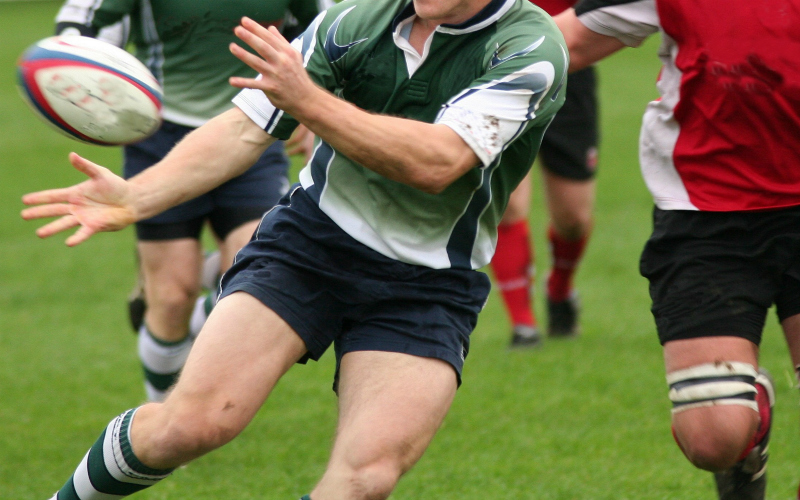 This week's announcement that eight former professional rugby players have launched legal claims against rugby's governing bodies in England and Wales has brought attention to the links between brain injuries and sport once more.
My colleague, Gordon McBean, has previously commented on the Glasgow University Study which found an increased risk of dementia amongst professional footballers. This study was followed by the SFA introducing restrictions on school aged children heading the ball. Rugby has become the focal point of the issue once more with the recent announcement. 
The former players, including household names such as England world cup winner Steve Thompson, are reported to be test cases for a larger group of more than eighty former professional players. All eight players have been diagnosed with early onset dementia and Chronic Traumatic Encephalopathy (CTE), the symptoms of which make for difficult reading. CTE was famously discovered in relation to investigations into neurodegenerative diseases in NFL players, the subject of the 2015 film Concussion.
Successful class-action law suits by former NFL players in the United States proved a catalyst to investigations and changes in many sports, including rugby. Fans and players will be familiar with the rule changes ushered into both professional and amateur rugby in recent years in an effort to limit concussions and improve player safety. However the case pursued by Thompson and others alleges that the relevant governing bodies (World Rugby and the English and Welsh Rugby Football Unions) acted negligently by failing to adequately protect players during their careers.
This begs the question whether the Scottish Rugby Union (the 'SRU') will see similar actions under Scots law.
Traditionally in Scotland cases for personal injury sustained during sport prove difficult. Generally players and athletes are considered to have consented to certain risk of injury by participating in a game. However these cases are far from ordinary. Whilst the law north of the border differs to that relied upon by Thompson and others, the general principles remain the same. In order to succeed in a claim for negligence against the SRU (the Defender), former players (the Pursuers) would require to demonstrate:
That the Pursuer was owed a duty of care by the Defender;

That duty of care has been breached; and

The Pursuer has suffered a loss as a result of the breach of duty.

Point 1 ought to be easily established given the SRU's responsibility for administering the sport and applying Player Welfare Regulations, not to mention  potential  employee/employer relationships in some cases.
Points 2 and 3 will be more difficult to establish. Pursuers would need to prove that the governing body ought to have done more to protect them against such injuries. The precise way in which a Pursuer might establish that the SRU were aware of the risks to players and failed to guard against them is hard to say. The losses suffered by the players are the neurodegenerative injuries sustained and the consequences arising from that. Expert medical evidence will be required to link that to their playing career and the acts and/or omissions by the SRU.
As my colleague Caroline Kelly previously noted, class-action cases, or group proceedings, recently became more available to Pursuers in Scotland following the implementation of the Civil Litigation (Expenses and Group Proceedings) (Scotland) Act 2018 in July 2020. So, similar cases are possible.
Whether such cases will be raised in Scotland remains to be seen. The significantly smaller pool of professional players compared to England and Wales may be a factor. However, this case makes clear the need for rugby's governing bodies to rethink player safety to ensure current and future players are adequately protected. Something fans and amateur players like myself will be anxious to see.
The repercussions of this case are likely to be significant across rugby.  Players, fans and personal injury lawyers alike will be following developments closely.
Daniel McGinn is a Senior Solicitor in our specialist Personal Injury team. For further information please contact Daniel on 01382 346207 or email dmcginn@thorntons-law.co.uk. You can contact any member of the Personal Injury team on 0800 731 8434.