Caroline Pigott
Associate | Edinburgh
Intellectual Property
---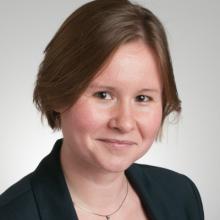 ---
Dual qualified Solicitor and Trade Mark Attorney
Based in Edinburgh, Caroline is one of only 6 dual qualified Solicitor Trade Mark Attorneys in Scotland and can advise clients on both the legal and technical aspects of trade marks and branding.
Caroline has extensive experience in drafting bespoke trade mark applications across a number of commercial, public, charity and education sectors. She also assists clients with the enforcement of their IP rights and other contentious elements of brand protection, with experience of high value trade mark infringement and passing off litigation. She has a comprehensive understanding of brand and patent licence agreements, is familiar with complex royalty structures and displays an in depth knowledge of Intellectual Property commercialisation. She works closely with clients to help with the development of both domestic and international brand strategies and currently offers advice in connection with registration, renewal, enforcement and the management of worldwide trade mark portfolios. She also provides clients with detailed IP audits and brand reports for complex and technical businesses.
Her proactive and thorough approach sees Caroline working closely with clients to fully understand their business needs and objectives. She creates strong working relationship with clients, helping her to offer bespoke, practical and cost effective advice. Caroline's clients include private businesses, public and governmental bodies, research centres, academic institutions and charities, across a range of business sectors including food and drink, technology and gaming, entertainment, sport, leisure and agriculture. Caroline also works with numerous early stage, high growth and spin out companies to help get their brand 'investor-ready'.
Since 2013, Caroline has sat on the Law Society of Scotland's Sub-committee for Intellectual Property Reform and has recently advised on the impact of Brexit on the principle of exhaustion of IP rights. She is a member of CITMA and in 2017 was admitted as a Chartered Trade Mark Attorney.
---
Caroline Pigott's Blog Entries
This is a story about trade marks….and hedgehogs. More specifically, one hedgehog who has recently been in the news.
He was…
---
Posted on 18th January 2018
Monkey Business: this idiom typically relates to silliness or foolishness. The irony of the phrase is surely not lost on David Slater,…
---
Posted on 13th September 2017
Segments of Thorntons' Edinburgh office are abuzz with chat about the guilty indulgence that is ITV2's Love Island.
In the…
---
Posted on 18th July 2017
---