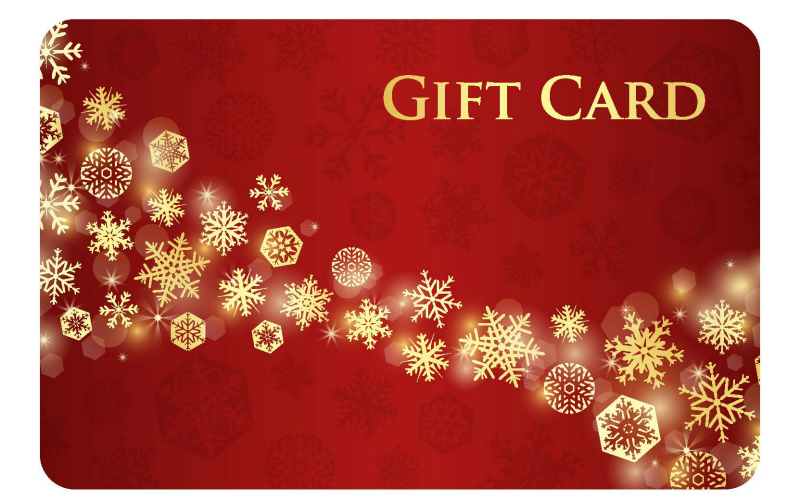 What a year!  All of us have been living under unprecedented restrictions on our lives this year, missing loved ones and all the usual happy sociable milestones we celebrate together. With Christmas on the horizon and the news that some mixing of households is going to be permitted, your Christmas preparations, like mine, might be going full steam ahead.
Our tree is up, the rare thing that is a home delivery grocery slot is booked (even if the substitutions will be the biggest surprise of all this Christmas) and my mind has been turning to the gifts I want to send this year.
It is so tempting for a variety of reasons, such as supporting local businesses, ease of posting and the ability to avoid the shops (if they're open!), but although buying vouchers might be tempting, this year more than ever, please think carefully before you buy them!
I can't help but feel a bit Grinch-like, even in normal years, when I issue my usual annual warning about retail/restaurant/experience vouchers, and never more so this year, when the sale of vouchers at Christmas could inject some much needed cash to businesses struggling to survive the restrictions brought by the pandemic.  It would take an even harder or smaller heart than the Grinch not to be tempted to support your favourite shop or restaurant, especially when the light at the end of the Corona virus tunnel might be in sight in the spring.  So this year my warning is slightly different, please don't buy vouchers if you can't afford to lose the money and the experience or goods.
So, why be so Grinch-like about buying vouchers?  Settle down in front of a roaring fire, next to the (not yet stolen) Christmas tree and with your festive tipple of choice let Mrs Grinch explain……..
You can't have missed the vast spate of retail and restaurant insolvency this year with many stores and restaurant chains entering CVA processes or administration.  Most of these businesses will have sold gift vouchers.  Vouchers are essentially a contract between the purchaser and the store/restaurant/experience provider. In return for your cash the store will provide a voucher agreeing to honour a cash payment up to value you spend. So what happens if the store or restaurant is unable to honour the voucher due to a formal insolvency or if it doesn't reopen when you want to use the voucher?
Yes, Cindy Lou, you've guessed it, voucher holders are then in the position of being only an ordinary creditor in the insolvency process and it's more than likely that your hard earned cash essentially only bought an undoubtedly festive themed piece of paper or plastic card. The voucher is then worthless and you have both lost the cash and more embarrassingly failed to give a loved one a gift they can use. Which isn't very festive, unless you truly believe it's the thought that counts, and this year more than ever it may do.
(If my child is reading this, it really is the thought that counts and you still need to thank <insert relative> nicely for the <insert random Superhero branded gift> and "no", I don't care if you don't like it, someone loves you enough to have gone to the bother of buying you a gift……..)
This is only relevant in a formal insolvency of the restaurant or retail establishment and liquidators or administrators are appointed. CVA's are different and I can't think of a single retail CVA which has proposed not honouring its vouchers.  If a business fails to reopen to allow the voucher to be redeemed, you're probably looking at suing to retrieve your money and frankly it will almost certainly not be worth it if you do.
But wait, residents of Whoville, all Christmas hope may not be lost and some retail entities which enter insolvency are bought out of insolvency by new owners. Clearly dishonouring vouchers is a reputational issue for the store and some may honour vouchers as long as they were spent in a very short period of time but that is something that is entirely up to the good will of the new business owner.
Over the years I have been involved in many high profile retail and restaurant chain insolvencies, and where pre-package sales are anticipated, the vouchers query always comes up and is generally felt by those purchasing the business that the resultant hit to the goodwill of customers by not honouring vouchers was just a risk too far.  Will that be the same this year as we live in a different retail landscape now?  At Christmas, the voucher position is one of the highest of the year and consequently a large exposure for any businesses going forward.  They are essentially accepting that they will provide goods or services and not receive the benefit of the cash which remains behind in the old business; there are not many businesses in this sector that can afford to do that now.
As a truly Grinch-like aside, when advising retail and restaurant owners at the time of year, the voucher position is a material consideration in respect of their directors' duties. It will always be my advice that if a business is in a position where they are expecting to be unable to trade out of financial difficulties that they immediately stop selling vouchers because to do otherwise, where the vouchers are not going to be honoured, is a breach of their duties to creditors.  The emergency protection against wrongful trading that directors had the benefit of over the summer is also no longer in place.
So this year, if you are considering popping a voucher in a Christmas card I would suggest you think hard about substituting a voucher for cash unless you don't mind running the risk that your money will not be worth anything more than a nice Christmassy bit of paper or plastic or if you really do want to support and boost your favourite local supplier through this time.
Bah Humbug maybe…….but don't let the Grinch steal Christmas by mistake.
Insight from Pamela Muir, Insolvency, Restructuring and Corporate Partner at Thorntons. For more information contact Pamela on 03330 430350 or email pmuir@thorntons-law.co.uk