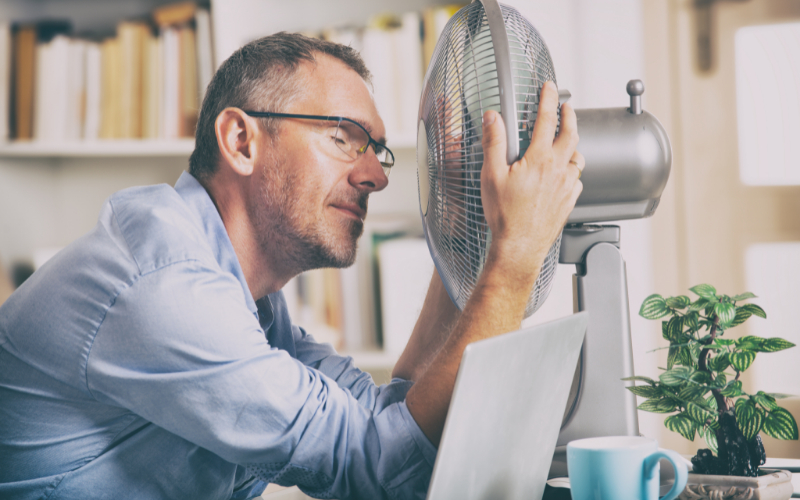 With the recent spell of hot weather and summer temperatures set to rise consistently (Global Warming, I see you!), how have you found working in the heat? If you are still working from home, as a lot of us are due to ongoing COVID-19 related government restrictions, has the heat impacted your ability to work? Whilst it can be helpful to open the window and get outdoors if you are lucky enough to have a garden to work in, it raises the question: is there a duty on your employer to regulate the temperature you are working in?
Health & Safety Guidance
The Health and Safety at Work etc. Act 1974 places a general obligation on employers to consider the temperature employees are expected to work in, but it does not provide any specific advice. The Health and Safety Executive (HSE) provides some guidance to employers on suitable working temperatures. The HSE recommends that the minimum temperature in a workplace should be 16 degrees Celsius (or 13 degrees Celsius where the work involves rigorous physical effort), but it fails to put a figure on a maximum working temperature. Instead, the HSE advises that "in offices or similar environments, the temperature in workplaces must be reasonable" – but what counts as "reasonable"?
Well, as there is no legal maximum working temperature which workers must work below, employers are obligated to ensure that the temperature is at a comfortable level and they must provide clean/fresh air. This is known as "thermal comfort".
How to improve "Thermal Comfort"?
Air temperature is the most obvious indicator of thermal comfort, but there are other factors which should be taken into consideration. Other environmental factors include radiant temperature, air velocity and humidity; while the personal factors are clothing insulation and metabolic heat. Without getting too scientific, there are steps that employees can take themselves to improve thermal comfort, such as:
Adding or removing layers of clothing depending on how hot or cold you are;

Opening a window or using a desk fan;

Drinking plenty of water; and/or

Closing blinds to avoid working in direct sunlight.
Likewise, there are actions that employers can implement to assist with this. For example, relaxing formal dress codes; assessing thermal risks; moving workstations out of direct sunlight, and/or altering working patterns to help limit employees working during the hottest parts of the day (did someone say Siesta?).
More recently we are hearing that some employers have been providing employees working from home with fans. If an employee is working from home, they are much more in control of their environment than their employer ever could be. Consequently, the obligations and duties placed on an employer in relation to the employees' health and safety becomes much less clear cut than when they are working in the workplace. So whilst providing employees with a fan is a nice gesture, ultimately, employers are not under a duty to provide employees with heat control equipment. However, as we continue to see higher temperatures in the summer more regularly, it might be something employers wish to consider going forward.
It is also worthwhile remembering that employees have a personal duty to ensure they are working in a safe manner. If employees have a problem with the temperature they are expected to work in, they should raise the issue with their employers in the first instance and discuss what they think can be done to improve their comfort levels. For employers, we encourage you to keep a regular check on your employees working conditions and encourage employees to raise any issues they may be experiencing. Such issues should be raised with the employer's dedicated Health and Safety Representative.
Insight from Chris Phillips, Partner and Kerri McIver Trainee Solicitor in Thorntons Employment Law team. For more information or advice contact Chris or any member of the Employment team on 03330 430350.