---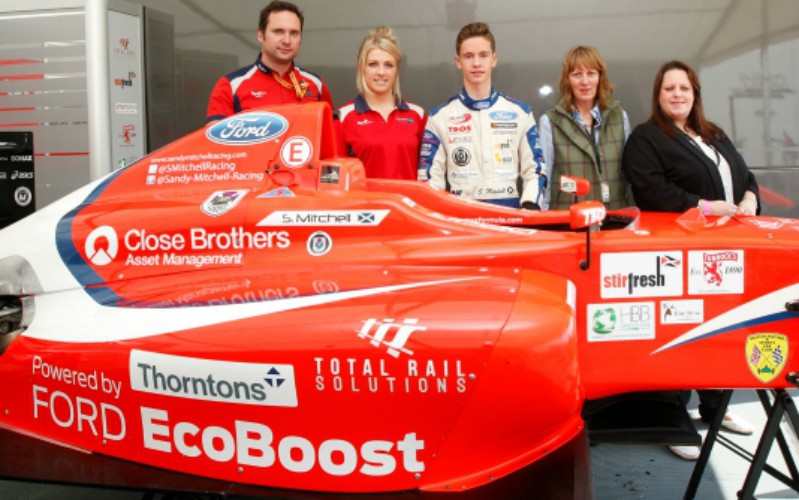 Thorntons is helping a teenage racing driver on the road to success.
Sandy Mitchell MSA Formula Junior Series
Sandy Mitchell, 15, entered the record books earlier this year when he became the youngest ever winner in a single-seater racing car – and is being tipped to go on to greater things.
The youngster, from Letham, Angus, won the British Super One Junior Rotax Championship last year, a competition previously won by Formula 1 stars Lewis Hamilton, Jenson Button and David Coulthard.
At the start of this year, Sandy signed for Arden Junior Racing Team and now competes in the MSA Formula Junior Series, where he has gradutated to racing in a Formula 4 car at circuits including Brands Hatch and Donington Park.
Thorntons joint managing partner Scott Milne met with Sandy at Knockhill last weekend as the competition came to the Fife circuit.
He said: "Sandy is an exceptional talent and is being tipped to go on to achieve great things in on the track in the future.
"He is a dedicated and hardworking young man and it is an honour to be able to help him through providing this sponsorship and play so part in him realising his dreams of becoming a leading light in the world of motorsport."
Dundee High School pupil Sandy said: "I am very grateful to Thorntons for their backing and the generous sponsorship they are providing.
"It's great to secure the support of a local firm as I tackle the challenges of the MSA Formula Junior Series and look to the future."
Folllowing the race meeting on Saturday (22nd August), Sandy added: "I have had a terrific round at Knockhill with my sponsors Thorntons and their guests in the MSA Formula.
Sandy Mitchell Rookie Trophy
"I have had two 4th place and a 5th place finish overall and three rookie podiums collecting the 2nd place rookie trophy each time. Thanks to all who supported me"
www.sandymitchellracing.com
Stay updated
Receive the latest news, legal updates and event information straight to your inbox
Stay Updated
See all Firm News articles