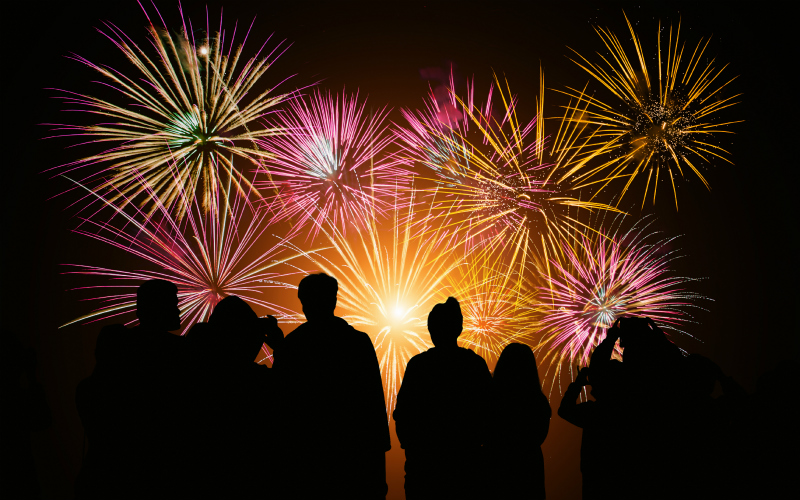 Coronavirus has seen many events and celebrations fall by the wayside in 2020 and unfortunately, Bonfire Night on 5 November is no exception.
With no official displays to attend, Scottish Fire and Rescue Service have highlighted that this may encourage more people to buy their own fireworks and put on displays at home for their family, friends and neighbours. Such plans of course present their own corona-related concerns and we would urge everyone to be mindful of the current restrictions on visiting other households or travelling in or out of tiered areas. Such plans also raise the issue of the dangers posed by the fireworks themselves if they are not used responsibly or if they are faulty.
Stay Safe
All types of fireworks carry an element of risk and the potential for serious injury if not used correctly. There is  however a considerable difference between using a sparkler in your garden last year to moving on to a speedy rocket or Catherine wheel this time around. We would always recommend following the 'Firework Code' at all times when purchasing, handling and disposing of fireworks and my colleague Stephanie Watson discusses this in more detail here.
If you are considering your own at home display make sure you purchase the correct category of fireworks for private use. Be clear about the minimum safety distance required and only use fireworks in your garden if you can comply with the safety requirements. Following the instructions will help keep your property and spectators as safe as possible.
What can go wrong?
Even when following the guidance, the unexpected can sometimes happen which increases the risk and danger level of a domestic garden display. Fireworks may fail to light or even explode prematurely. This may be due to a fault. As with any other products, fireworks manufacturers have an obligation to meet safety standards. If they fail to do so and you are injured, it may be possible to claim compensation.
Things can also go wrong due to a failure to follow instructions such as the minimum safety distance requirements. If you are carrying out your own mini fireworks display on your property, you have an obligation to do so safely. If someone is injured during your display and you have failed to take reasonable steps to keep them safe, you may be held responsible for their injuries, in the same way organisers of public displays may be held responsible if they fail to take steps to keep spectators safe. It is therefore important to make sure you are comfortable with the instructions and the safety requirements before you light any fireworks on your property.
Spare a Thought
Whilst many of us love a good firework display and look forward to it each year, not everyone shares that enthusiasm. Those with sensory impairments and conditions such as autism can find fireworks overwhelming and distressing, as do most animals. If you are planning a display at home then you may wish to consider warning your neighbours as a matter of courtesy, and where possible, so they can also take any necessary safety precautions or perhaps even sneak a peak out of the window!
Bonfire Night is always one of the busiest nights of the year for our emergency services. Fireworks can present some light relief, especially after a difficult few months and as we head into another long winter. Don't forget to take all necessary safety precautions so that your evening doesn't turn into an avoidable tragedy.
If you have suffered an injury due to the fault or negligence of another party then get in touch. Contact Lynsay McFarlane on 01382 346792 or lmcfarlane@thorntons-law.co.uk. Alternatively, contact one of our specialist personal injury lawyers on 0800 731 8434 who will be pleased to assist further.