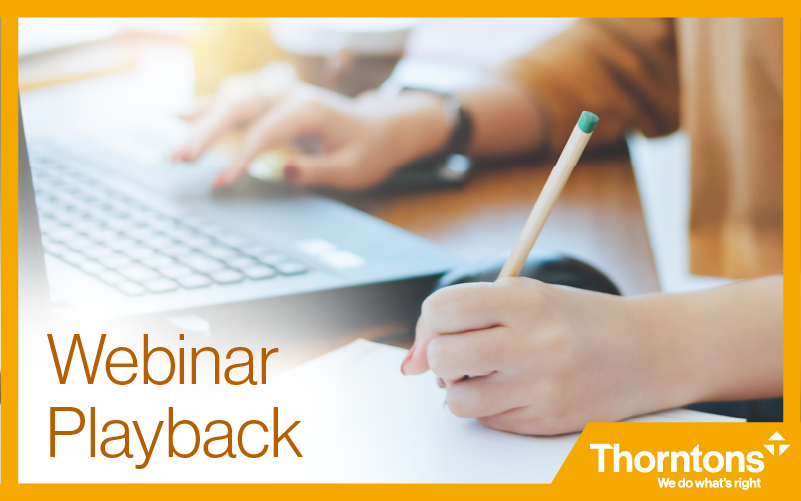 The private housing sector continues to face many challenges during the Coronavirus pandemic – for example, the ongoing temporary ban on evictions in Scotland for all but antisocial behaviour cases, and changes to Capital Gains Tax thresholds and the reporting rules. As a landlord, do you know how each of these will impact on you?
Dispute Resolution & Claims specialists, Gillian Buchanan and Kirsty Waughman hosted the short webinar where they discussed key issues and provided an update on the current regulations on the enforcement of eviction orders and gave gave an overview of the First-tier Tribunal's first wrongful termination case which illustrates that it could prove costly to evict a tenant under false pretences. While Property Partner Andrew Kirkhope provided an update of the changes to Capital Gains Tax and the reporting rules.
Topics covered included:
A general update on the emergency measures affecting the private rented sector;

A cautionary tale about misrepresenting the basis for an eviction order being sought;

An update on recent changes to Capital Gains Tax.
If you have questions about property rentals, the enforcement of eviction orders or Capital Gains Tax implications as a result of the value of your property, please contact Gillian, Kirsty or Andrew on 03330 430350.
Broadcast: 05 May 2021. The content in this webinar, guidance and advice provided by the host, is correct at the time of broadcast. If you are watching a recording after the broadcast date please contact us for the most up to date guidance and advice on this topic.