---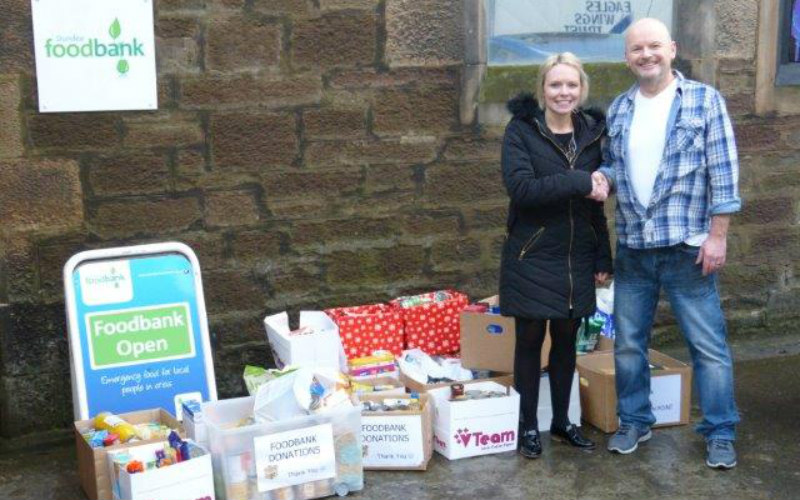 Posted on Dec 16, 2015
Local solicitor Lisa Mannion has helped to give a food bank a much-needed boost over the festive period.
Lisa Mannion, a solicitor in the residential conveyancing team at Thorntons organised a collection for Dundee Food Bank, providing 20 boxes of food and toiletries for those in need across the area.
The food was collected by Lisa from her colleagues in Thorntons in Dundee over a 6 week period.
Lisa, along with colleague Pat Rourke, delivered the food, which will help to feed vulnerable people over the festive period, to the food bank on Wednesday 16 December.
She said: "For the majority of people, Christmas is a happy time for relaxing with friends and family.
"But for people struggling financially, it can place an extra strain on budgets and leave many wondering how they are going to feed their families.
"That is why I believe it is especially important that those in need are not forgotten at Christmas. A small donation to a food bank may not seem like a huge gesture, but each donation adds up and helps to take the strain off people who are struggling with their finances."
Dundee Food Bank, run by the Trussell Trust charity, is based at the Full Gospel Church in Dundee's Consitution Street.
Ken Linton, of the Trussell Trust, said: "We are grateful for the generosity shown by those who donated to this collection.
"Stretched budgets at this time of the year mean that there is an increase in demand for help, so any donations are greatly appreciated."
Stay updated
Receive the latest news, legal updates and event information straight to your inbox
Stay Updated
See all Firm News articles