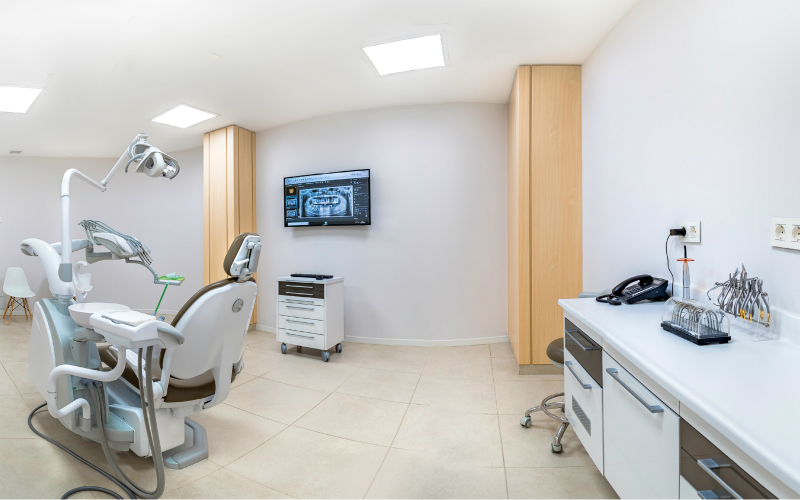 Everyone has been affected by the Covid-19 lockdown, with some businesses being largely unable to operate (such as the dental profession). Other professions have been able to continue to operate remotely, with many working from home. That includes the Dental Team at Thorntons Law, who have been able to provide advice to their clients throughout the lockdown period without any interruption.
"Whilst the lockdown period has undoubtedly been very strange and has brought various challenges, the service provided to our dental clients has continued with no restrictions on what we can do for them. Our team were attuned to working remotely before the current crisis (admittedly not all at the same time) and so we have been well placed to continue that through the current restrictions" commented Michael Royden, Partner in the team.
But with practices shut down, what have the team been doing? Surely there can't be much call for legal advice at this time? Well that hasn't been the case. Thorntons has provided a broad range of advice, with 5 key areas which have seen significant demand for guidance:
Employment Issues
Employment has been a big concern for practices amidst the lockdown, with practices being closed and many staff put on furlough. There was a period of initial uncertainty regarding whether practice staff could be furloughed, and there are still differences of opinion amongst advisers on that point.
Going forward, practices will have issues to address regarding the staff including:
How and when to have them return and, where they have been furloughed, how coming out of the scheme will work

There will undoubtedly be new working practices to contend with post-lockdown, and we envisage that practices will need some new policies for staff (such as on social distancing, etc)

Disputes
It would be easier all round if people didn't fall out. However, life isn't like that, and in stressful times like these, we often see disputes on the up. In turn, dentists have spare time with their practices being closed, and in some cases have chosen to address issues which have perhaps been in the background for a little while.
The disputes which we have dealt with are broad ranging, from matters between principal and associate, to issues with suppliers to practices (such as payment issues).
During the lockdown, the courts have been largely closed themselves other than for the most urgent business, but they are now starting to re-open, and we envisage that they will be busy for the foreseeable future, dealing with actions which have been parked over recent months. Of course we don't necessarily need the courts to resolve matters, and we have been involved for clients in seeking out of court resolutions.
Practice Sales & Acquisitions
You may think that no practices will have changed hands during the lockdown, but that hasn't been the case. Whilst some deals have been parked, we have seen a number of sales and acquisitions continue over the last couple of months, some have completed during that time, and indeed we have seen new deals being agreed in principle with the aim of completing once the lockdown is relaxed.
It might seem odd for sales to take place when most practices are closed, but in the end a more normal life will return (in what shape is the big question), and so principals who were planning to retire soon will probably still wish to achieve that. In turn, the lockdown gives dentists more spare time, allowing them to focus on the practicalities of a practice sale or acquisition without the "distraction" of the normal day job.
We are also aware that there are still active acquirers out there, including the dental corporates, who remain keen to do deals. So whilst the practice sale market may be different in a number of ways post-lockdown, it will definitely still be there.
Practice Documentation
As lawyers we always encourage our clients to put in place the documentation which they should have in relation to the practice, in terms of agreements, policies, etc. However, we understand that these are not always seen as high priority, particularly for a principal who is already fully occupied managing their practice.
Once again, however, the lockdown frees up time, and we have seen principals turning to various aspects of their practice; such as:
Associate Agreements – many don't have any written agreements in place, and we have been asked to produce agreements for use by the practice going forward

Partnership Agreements – again practices which run as a partnership don't always have a partnership agreement in place, and that can cause issues in the future. The same might be said of Expense Sharing Agreements and Shareholder Agreements where relevant

Policies – some practices lack policies for staff, such as disciplinary and grievance policies

Personal Advice
Finally, on a personal front, the current crisis has made some of our dental clients think about the future and their own personal affairs.
The lockdown has affected all of us in terms of our ability to deal with personal matters. We have therefore had clients seek advice on:
Powers of Attorney – some have sought to put in place Powers of Attorney to allow their affairs to be dealt with by someone on their behalf. This is relevant for people of all ages, but is perhaps seen as most important for relatives who have had to shield (and may still have to for some time to come)

Wills – it goes without saying that a crisis like this brings to the forefront of people's minds the need to address what would happen to our assets on death, would our family be catered for, etc? Having a will in place is an essential aspect of that planning, and everyone should have a written will, regardless of age.

What is clear is that the lockdown has not brought business life to a complete stand still, and the Thorntons Law Dental Team are there to assist their clients whenever required.
Insight from Michael Royden, Corporate Solicitor and specialist Dental advisor at Thorntons. For more information contact Michael on 03330 430350 or email mroyden@thorntons-law.co.uk