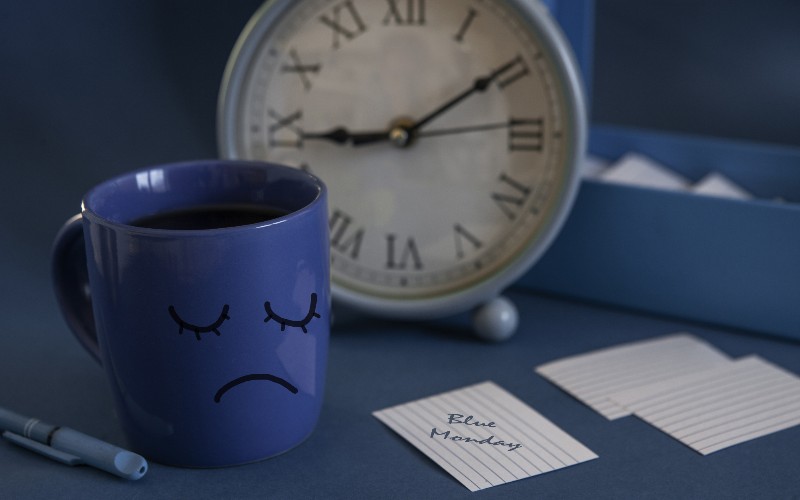 Not long ago we were enjoying the festive period, fairy lights brightened up the dark nights, and we were setting good intentions and resolutions for the new year. As we approach the middle of January, Blue Monday –what is said to be the most depressing day of the year- is upon us.
This year, Blue Monday falls on 17 January 2022, but where did it all begin, and is there any truth to the claim?
Dubious beginnings
Blue Monday was first coined by Dr. Cliff Arnall in 2004 and used by travel company Sky Travel as a clever marketing ploy to encourage customers to book holidays to beat the blues. Dr Arnall came up with a formula that took into account factors such as cold dark nights, post-Christmas debt after over-indulging during the festive period, and regret over failed new year resolutions. He then determined that the saddest day of the year was usually the third Monday of January.
The formula has been largely de-bunked by the scientific community as pseudoscience, but the term has managed to live on, in part due to organisations trying to capitalise on the concept.
What can employers do?
According to mental health charity Mind, one in four people experience mental health issues at some point in their lives. While the concept of Blue Monday may trivialise what can be a very serious illness for some, it is a good opportunity for employers to start up a conversation, raise awareness about mental health in the workplace and provide some much needed support to employees who may be experiencing mental health issues.
There are many factors that can contribute to mental health issues for employees. It may be due to personal circumstances, but may also include work-related issues such as relationships with colleagues, unrealistic workloads or deadlines, lack of training or support, or feelings of isolation as a result of working from home.
It is important for employers to create an open and inclusive environment for employees to raise their concerns, put internal policies and procedures in place to deal with issues, and provide appropriate training for management to support employees experiencing mental health issues.
Blue Monday is therefore a good excuse for employers to take stock of their internal policies and procedures, reassess employee wellbeing initiatives and consider how you can support your employees over the coming year.
If you would like our assistance in relation to employee wellbeing please contact Noele McClelland or a member of the Employment Law team on 03330 430350 or email nmcclelland@thorntons-law.co.uk