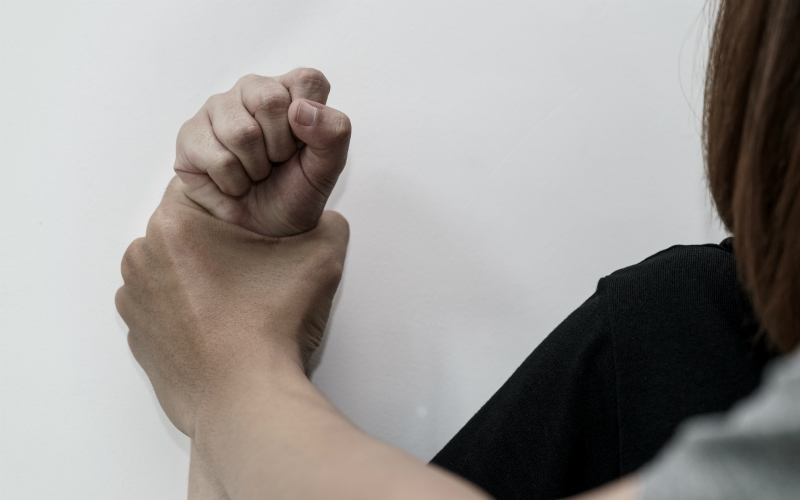 Lockdown has exacerbated the sense of isolation for many families whose lives are affected by domestic abuse. Victims of abuse are often prevented from talking with or meeting with friends and family and their movements are questioned or restricted.
It is so much more than the perception of physical assault.  
The Domestic Abuse (Scotland) Act 2018 defines abusive behaviour as: Behaviour which is abusive of B (B being the victim and A being the perpetrator) includes:
(a) behaviour directed at B that is violent, threatening or intimidating,
(b) behaviour directed at B, at a child of B or at another person that either—
  (i) has as its purpose (or among its purposes) one or more of the relevant effects set out in subsection (3), or
  (ii) would be considered by a reasonable person to be likely to have one or more of the relevant effects set out in subsection (3).
The relevant effects are of:
(a) making B dependent on, or subordinate to, A,
(b) isolating B from friends, relatives or other sources of support,
(c) controlling, regulating or monitoring B's day-to-day activities,
(d) depriving B of, or restricting B's, freedom of action,
(e) frightening, humiliating, degrading or punishing B
In subsection (2)—
(a) reference to violent behaviour includes sexual violence as well as physical violence,
(b) reference to a child is to a person who is under 18 years of age
The effect of domestic abuse on families is profound and long lasting. We do not underestimate how difficult it is for someone to seek advice about their home life. Many feel unsupported, vulnerable and afraid of the consequences if they speak out. It may feel humiliating and embarrassing to admit there are problems of this nature. It can be completely overwhelming. Going to work or going to school for some brought an escape and respite from trouble at home.
If lockdown has had any positive benefit, it has been to draw attention to this crippling problem which can affect men as well as women.  We have recently seen new initiatives to help individuals such as:
Free rail travel for a woman and her children to leave an abusive home. Such support is available in conjunction with Womens Aid

Boots the Chemist, Superdrug and other independent pharmacy stores offering a safe space in their pharmacy consulting rooms to call support services for information and advice. This is available for both men and women experiencing domestic abuse. For more information go to

www.uksaysnomore.org/SAFESPACES

As family lawyers we regularly advise on the legal remedies available to protect against abusive behaviour. Depending on what the circumstances might be, the legal remedies might include interdict (an order preventing someone using threatening or abusive behaviour towards a person), exclusion orders (an order removing a person's right to occupy a property) and a non-harassment order (an order stopping a person harassing another). More often however, our advice focuses on pragmatic steps that can be taken either without raising court action or before court action becomes necessary. Some things we will consider and recommend include:
Contacting independent support agencies such as Womens Aid.. We work closely with local groups across our locations and can initiate the first contact if preferred.

As above, men can be affected by domestic abuse too. Sharing this may not be easy but help and support is out there for men too such as AMIS: "www.abusedmeninscotland.org"

Contacting the police where appropriate. If there has already been police involvement, the perpetrator charged and bailed then there may be a special condition of bail to stay away from the victim. This is an additional effective protection and may mean that civil court action is not required immediately or at all.

If there is an immediate and urgent risk then the police can be contacted on 999. If it is not safe to speak, press 55. This alerts the operator that it is a domestic abuse call and the police will respond.

Although our courts have been closed due to the lockdown, urgent applications for protective court orders can be made. We are realistic in the advice we give about raising court action. It needs to be effective and improve a client's situation. If it is unlikely to be, then we will be clear about that and suggest other practical options.

Whether during lockdown or not, abusive behaviour is plainly unacceptable. Be in no doubt, domestic abuse is not tolerated by the police and the 2018 Act has transformed what behaviour is seen as abusive and how it can be dealt with. Efforts to eradicate domestic abuse will not stop there. Currently, the Scottish Government is considering proposals to introduce Emergency Barring Orders giving the police the authority, where they consider a person to be at risk of domestic abuse, to remove a perpetrator from the home on a temporary basis rather than the victim and the family having to leave. This would be a significant development if passed.
We can advise on both the civil and criminal law consequences of abusive behaviour.  Beyond seeking counselling or help with anger management, out with the criminal justice system, there are not many well known resources for managing abusive behaviour.  Some guidance can however be found at www.respect.uk.net 
While face to face consultations are not possible at the moment, we are available to provide advice by telephone, email or video-conference. 
Angela Wipat is a Legal Director in our specialist Family Law team, If you have any questions about domestic abuse, or you or someone you know needs support, please contact Angela awipat@thorntons-law.co.uk or 01738 621212 a member of the Family law team.