---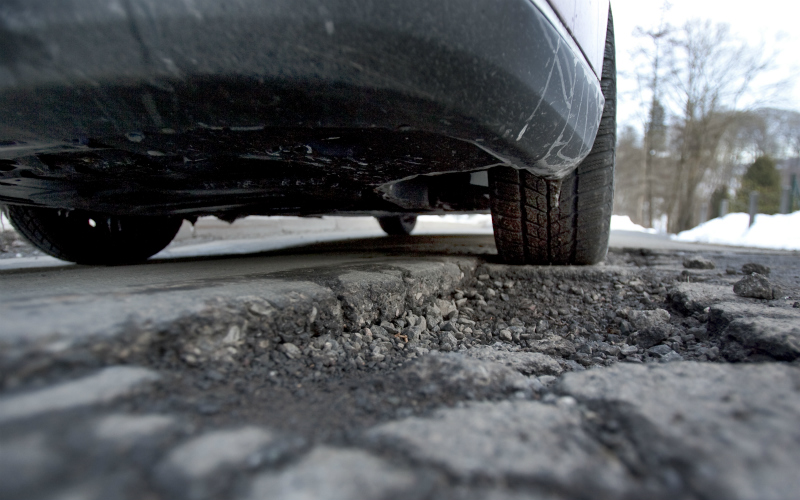 "Burt, it's under the ground! It's an underground monster!"  I admit, I'm mixing my monster movies here, but it's hard to resist when the local paper reports that "a Monster Pothole as wide as the road has forced more than a dozen motorists off one of the North-East's busiest routes."
According to the report, Police Scotland received at least 20 calls from worried motorists with numerous drivers suffering burst tyres, damaged alloys and more.  No reports of vehicles being trampled underfoot by a hundred metre tall Kaiju, however.
Whilst slightly unusual sounding it's not at all uncommon for significant potholes such as these to cause more than just vehicle damage, and in some cases, personal injury. So where do you stand if you sustain an injury as a result of driving into a "monster pothole"?
When it comes to liability for these "whopping craters", photographs are very useful, though understandably not always convenient to obtain.  Proving that the party responsible for maintaining the road surface ought reasonably to have been aware of the defect is the best route to securing compensation.  Liability is often established through production of photographs to show the extent of the pothole, both as evidence of it having been in place for a significant period of time, and to confirm it is sufficiently deep to constitute a "legal defect". 
It can also assist claims greatly if there is any other witness evidence to speak to the length of time the pothole has been there (neighbouring residents or commuters), or the pothole being present in photographs on  Google Streetview.  Finally, in cases involving the local authority or major network operators, a good solicitor will usually take steps to recover from the relevant defender a copy of their inspection records to check for the "monsters" having been spotted during routine inspections, reported by members of the public, or records of other complaints or accidents.
Although not always straightforward, a forensic approach can often yield a favourable outcome, and provided it can be established in addition that you have sustained an injury as a consequence of the accident, compensation can usually be recovered.
So if you've sustained an injury as a result of an encounter with a "monster" (and it's safe to do so of course), snap a photo of the beast, and get in touch.  Measurements are always handy though, so we can sort the Nessies from the timorous beasties.
Richard Poole is an Associate in our personal injury team. If you have suffered road traffic injury you can contact Richard on 01382 346795 or email rpoole@thorntons-law.co.uk. Alternatively, contact the Personal Injury Team on 0800 731 8434.
Services associated with this entry
Stay updated
Receive the latest news, legal updates and event information straight to your inbox
Stay Updated
See all Claims & Disputes articles
See all Personal Injury articles