---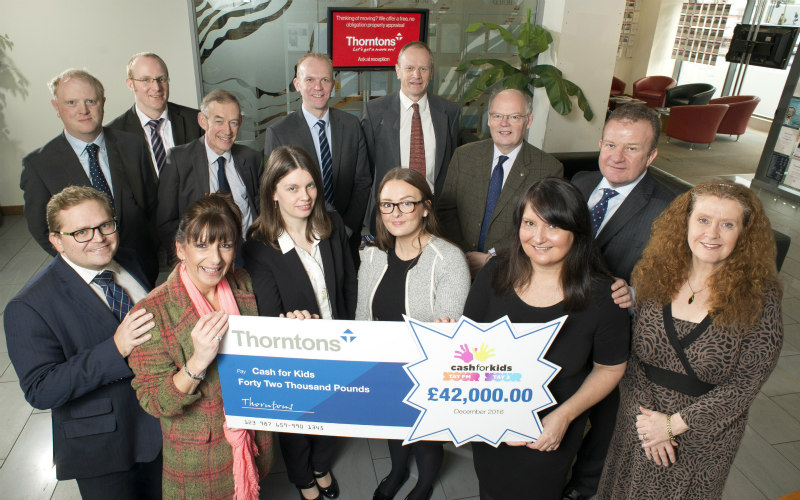 Thorntons clients have raised more than £25,000 for a local children's charity, Cash for Kids.
Charity Wills and Cash for Kids cheque presentation
Thorntons Solicitors collected the impressive sum during a month-long fundraising initiative last year and recently handed over the amount to Cash for Kids, the Radio Tay listeners' charity.
Cash for Kids helps children and young people across Perthshire, Dundee, North East Fife and Angus. Its work includes buying specialist equipment for children with physical disabilities, providing respite for families with chronically ill children and helping fund play schemes and other group activities to help young people manage and cope with physical and emotional challenges.
Thorntons dedicates a month every year to raising funds for charity through a Charity Wills initiative.
For that month, the firm waives its usual fee for anyone wishing to make or update a Will and instead asks that a donation is made to Cash for Kids.
Thorntons and its clients have been raising money for a variety of charities through Charity Wills since 1996. A total of almost £250,000 has been raised since the initiative was launched.
Organisations in the Dundee area such as Kirkton Community Centre, Dundee and Angus ADHD Support Group and Addicted2Dance Dancing School have all benefited from the charity this year.
Malcolm Farquhar partner and head of Private Client at Thorntons said: "Due to the overwhelming support from local people, we have again been able to raise an incredible total this year. More than 200 people made or updated a Will with us during 2015's Charity Wills initiative and we are thrilled that we have been able to present a huge cheque to Cash for Kids on their behalf.
"We always stress to our clients the importance of having an up-to-date Will as a safeguard for the future, so we are delighted that this initiative gives people the incentive to get round to doing it and to help a worthwhile local cause at the same time. We are hugely grateful to everyone who contributed."
Lynda Sword, Cash for Kids manager, said: "Once again, Thorntons' Charity Wills Campaign has been an overwhelming success. With a growing number of children in the local area living in underprivileged circumstances, Cash for Kids cannot express how much of a difference the funds raised will make.
"It continues to be a privilege to work with such a professional team and we would like to thank both Thorntons and their will-making clients for helping us improve the lives of so many children."
Stay updated
Receive the latest news, legal updates and event information straight to your inbox
Stay Updated
See all Firm News articles