---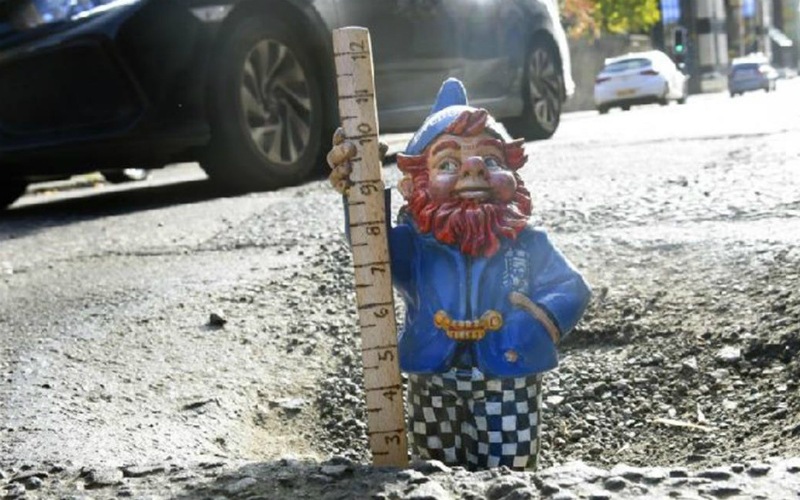 Edinburgh Evening News has revealed "Pothole Pete", a 12" tall garden gnome as the unlikely hero to put pressure on Edinburgh City Council to finally do something about their escalating pothole crisis and crumbling roads.
Pete is on a mission to tour the Capital, complete with his funky ruler, to identify potholes across the city to encourage Edinburgh Council to repair the hazards which cause millions of pounds worth of damage to vehicles and in compensation following personal injury claims. 
The issue of potholes, raised paving slabs, crumbling kerbs and broken drains is not exclusive to Edinburgh.  Scotland's Councils receive claims every year following pedestrians tripping on the defects in our pavements and roads.  A pothole or broken pavement slab can cause life-changing injuries.  The elderly population are most at risk of suffering devastating injuries such as a fractured hip requiring a full hip replacement. 
Councils have slashed their budget for road and pavement repairs by 20% in the last 10 years.  With the AA claiming that a pothole costs £60 to repair, the Council's short term strategy to save money will, ultimately, cost them in the long term.  More importantly, if less potholes and streets are being treated then it is putting members of the public at risk of injury.
On his first trip onto the streets of Edinburgh, Pothole Pete quickly found a large 2" deep pothole which he immediately reported to the Council.  I think Pete is a modern day hero and, hopefully, he can inspire the next generation of gnomes to continue to help fix Scotland's roads and pavements!
If you have suffered injury from a fall as a result of pothole or defect in our streets, then contact Personal Injury specialist Gary Mannion on 01382 346795, email gmannion@thorntons-law.co.uk or contact a member of the Personal Injury team on 0800 731 8434 or click here for more information.
Image courtesy of Edinburgh Evening News.
Services associated with this entry
Stay updated
Receive the latest news, legal updates and event information straight to your inbox
Stay Updated
See all Personal Injury articles