---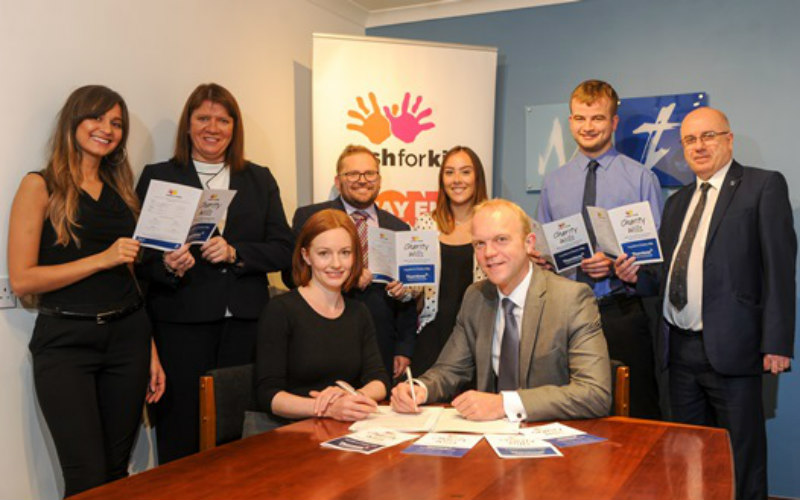 For any Wills created throughout September, Thorntons will not charge a fee but instead ask clients to make an equivalent donation to Cash for Kids. Murray Taylor Chartered Certified Accountants has pledged its support to the campaign with a donation for Thorntons to prepare Wills for all its staff in the Montrose, Arbroath and Dundee offices.
Steve Taylor, Managing Director at Murray Taylor, said: "This is a great initiative from Thorntons, it raises the awareness of the need for properly prepared Wills and Inheritance tax planning. At the same time raising funds for local children.
"It is a great gesture from Thorntons to prepare Wills for all of the Murray Taylor team and we look forward to working with them to deliver a great service to our mutual clients."
Thorntons has raised more than £270,000 for Cash for Kids throughout its 21 years of Charity Wills, taking place every September.
The money raised in 2016 supported various local causes across Montrose, Arbroath and Forfar. This included covering the cost of coach travel and clothing for Montrose Academy and Wardykes Primary School pupils to attend a trip. This was for children whose parents would not have been able to pay for the trip themselves therefore it ensured that the children were not isolated from the rest of their class. Forfar Bowling Club was also granted money to be used for youth group activities.
In addition to this, the Charity Wills fundraising also meant 14 beds were provided for children across Tayside who were living in poverty last year.
Murray Etherington, Partner at Thorntons, said: "Having a Will makes matters much easier for family members or anyone who has to deal with your estate in future. Our Charity Wills month is the perfect time to stop putting the task off and support a vital local cause at the same time.
"We're delighted that Murray Taylor Chartered Certified Accountants have chosen to make their employees Wills with us during our Charity Wills month.
"People often assume everything will go to their partner but there is no guarantee unless a Will is in place especially when there have been previous marriages. It's also worth considering updating your Will if it was made more than five years ago and your circumstances have changed.
"The process of completing a Will doesn't have to be a morbid one, our solicitors are human too and understand apprehensions of clients and are very considerate of their feelings. We are flexible to our client's preferences and want to make their experience with us a positive one."
To find out more about Wills and to download Thorntons Charity Wills guide visit, https://www.thorntons-law.co.uk/charitywills.
Services associated with this entry
Stay updated
Receive the latest news, legal updates and event information straight to your inbox
Stay Updated
See all Firm News articles
See all Private Client articles