---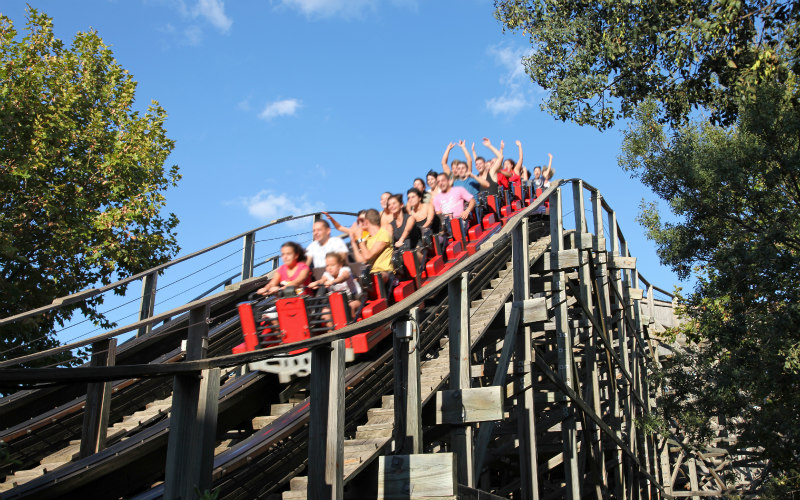 Whilst the Scottish school holidays are winding down, the English summer holidays are still in full flow making August one of the busiest months for theme parks across the UK.
In 2016, there were almost 68 million visitors to theme parks in the UK including visits to Drayton Manor Theme Park, near Tamworth, Flamingo Land in Yorkshire and Alton Towers. Theme parks are as popular as ever despite extensive coverage in the media of some recent high profile accidents so what causes these incidents and why do we still feel confident attending these attractions in such high numbers?
There can be several reasons for an accident to occur at a theme park such as a fall or trip on a pavement or pothole whilst walking around the park or slipping on a spilt drink in the catering facilities or a road traffic accident in the busy carparks. These are all common occurrences which could happen anywhere and are not exclusively linked to theme parks.
Accidents involving rides do occur at theme parks and can occur as a result of issues with human error in operating the rides, ride maintenance and in some instances, users failing to follow guidance given. These can be unexpected and take away from the light hearted fun that a trip to a theme park should be filled with for you and your family.  
You will no doubt recall the devastating accident at Alton Towers in 2015 where four visitors sustained life changing injuries and 12 others suffered other serious injuries. The Health and Safety Executive's investigation determined the incident was caused by human error following an earlier technical problem on the Smiler Ride. As the accident was caused by a lapse in concentration of an employee in starting the ride before clearing the empty carriage, Alton Towers were responsible for their employee's actions and paid compensation accordingly for failing to have adequate back up checks and processes in place. Unfortunately, without that safe system in place, that one momentary lapse will continue to haunt those directly injured, those within the park who witnessed it and the employees who were working that day.
Ride maintenance and safety is extremely important and all parks in the UK are subject to regular checks by the Health and Safety Executive. Tragedy struck in the USA recently when the cart on a pendulum style swinging ride flew off its hinges at the Ohio State Fair. As a precaution, six similar rides including Thorpe Park's Vortex, were immediately suspended in the UK until a full investigation into their safety can be carried out. Whilst there is no immediate threat to the UK based rides, it shows how seriously the risk of an incident is taken and precautions put in place where possible. An example of technical failure came closer to home last year following an incident at M&D's 'Scotland's Theme Park' when their Tsunami rollercoaster came off its rails at 40mph whilst 30ft up in the air in June 2016 resulting in injuries being sustained by some riders, although thankfully no fatalities. It was also reassuring to see that swift disciplinary action was taken against the health and safety inspector who had determined the ride as safe only 16 days earlier by immediately removing him from his post.
Visitors generally accept there will be some controlled risk to their own health and safety when they arrive at a theme park looking forward to the adrenaline rush and excitement that they can expect from the rides as they whizz around at speed or complete a sudden stomach churning drop. Each ride generally carries some health and safety advice about height and weight, where applicable, and will often warn those of a nervous disposition, with recognised health conditions or simply those pregnant or disabled, against riding. It is for the individual to heed these warnings and choose their rides carefully and within their limits. I for one, as someone who is terrified of heights, know my limits and you'll never see me on a rollercoaster that goes too high or on a 'loop the loop'! However, sometimes tragedy occurs when the rules are not followed and avoidable risks are taken. Take the recent incident on 'Splash Canyon' at Drayton Manor Park for example. Earlier this year, an 11 year old girl was thrown from this water ride when she tried to move to another seat. The dingy hit a rapid at the same time causing her to lose balance and be thrown into the water. Having ridden the same ride many times myself, I know the ride conditions and am aware that the warnings are clearly stated to remain seated at all times. However, it may be that upon further review, seatbelts or an alternative safety system could now be installed to ensure that lessons are learnt from this tragic event.
Whilst there have been serious theme park accidents widely reported in recent years, the chance of being injured on a theme park ride is quoted as 1 in 24million. When you think of the visiting footfall around the theme parks as above, the risk is minimal when compared to a 1 in 11million chance of being in a plane crash or 1 in 10million chance of being struck by lightning. On that basis, if you carefully read and follow the guidance which the parks issue about their rides, the chances of being involved in a theme park ride accident are very slim.
However, if you are injured in a theme park, whether on a ride or involved in a more common incident on the premises, you should always ensure that an accident report is completed and seek any first aid or medical treatment as soon as possible. It is important that theme parks and the HSE can keep accurate records of any incidents to allow them to continually monitor safety standards and to work together with the owners and operators to ensure that your lasting memories of a trip to a theme park are of a fun filled day out and not a traumatic day to forget.
Lynsay McFarlane is a Solicitor in our specialist Personal Injury team. If you have been involved in an accident whilst at a theme park or tourist attraction, please contact Lynsay on 01382 346792 or email lmcfarlane@thorntons-law.co.uk or contact any member of the Personal Injury team on 0800 731 8434 who will be pleased to assist further.
Stay updated
Receive the latest news, legal updates and event information straight to your inbox
Stay Updated
See all Personal Injury articles