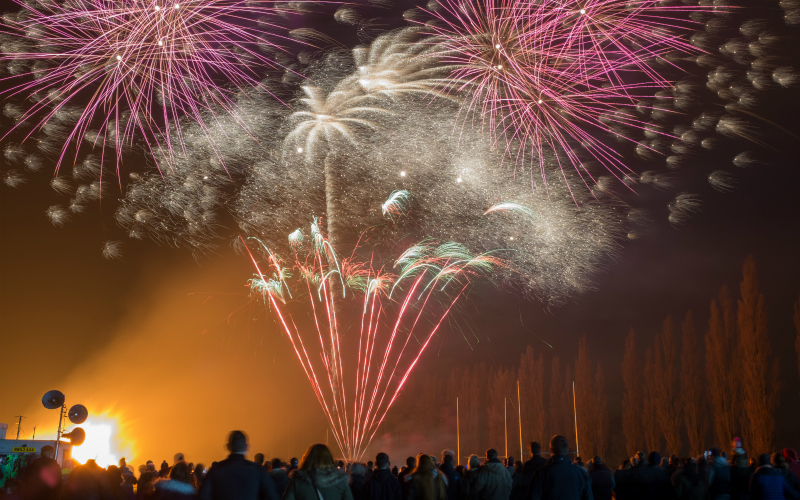 Autumn is not my favourite time of year; it's cold, dark and wet. Yet one of the days I look forward to every year is Bonfire night and the Fireworks displays.
Fireworks can be great fun for families, not just around 5 November but also at other times such as Diwali, New Year's Eve and Chinese New Year.  However, each year despite awareness campaigns and repeated safety warnings issued every year, people sustain life-altering injuries across the UK because of fireworks, with around half of all injuries happening to children under the age of 16. Injuries from fireworks often include third-degree burns, debris in the eyes from bonfires and fireworks, and smoke inhalation. These serious injuries often require extensive reconstructive surgery and result in permanent scarring. They can also cause psychological damage.
Given that fireworks are explosives that can reach speeds of 150mph and maximum burning temperatures of 2,000 degrees Celsius, they can be extremely dangerous. Fireworks are safer now than they were in the past and if used properly and in accordance with instructions there is very little risk of anyone getting injured. If used incorrectly there is a foreseeable risk of serious and life-changing injury.
So how do we reduce or prevent such injuries? General advice is that the safest place to enjoy fireworks is at a large public display, rather than at smaller family or private parties. The Royal Society for the Prevention of Accidents (RoSPA)  "Firework code" has the following safety tips:-: –
Only adults should set up firework displays and light and dispose of fireworks.

Light the firework at arm's length with a taper and stand well back.

Keep naked flames, including cigarettes, away from fireworks.

Never return to a firework once it has been lit.

Don't put fireworks in pockets and never throw them.

Direct any rocket fireworks well away from spectators.

It is recommended that sparklers are not given to under-5s.

Make sure everyone handling sparklers wears gloves.

Hold sparklers at arm's length while being lit and light them one at a time.

Injuries aren't unheard of at public fireworks displays either. Organisers should keep safety in mind and plan events responsibly. For instance, barriers should be placed to keep spectators a safe distance from the fireworks; they must check weather conditions and wind direction frequently and appoint enough stewards/marshals to deal with the crowds. If an organiser can show that they took reasonable steps to prevent injury then that may be sufficient to discharge their duty of care under the law.
It is the, sometimes illegal, sale of fireworks which is the most dangerous and can lead to improper use. Leading plastic surgeons are calling for graphic warnings to be introduced on to all fireworks packaging to warn the public of the risks and help reduce the increasing numbers of injuries sustained from the misuse of fireworks. This year, Sainsbury's have taken the decision not to sell fireworks and it can only be hoped that this will help in the battle to reduce the number of injuries.
Scotland is considering tighter regulations on the use and sale of fireworks. A Government consultation last year had over 16,000 responses and 70% of those said they had been affected by fireworks used in an irresponsible or unsafe way. Curfews and no-firework zones are also being considered.
Despite the potential risks, I still love watching fireworks and will be attending a public fireworks display this year. If you are going to enjoy a fireworks display in whatever setting, then think about the risks and follow the Firework code to reduce your risk of injury. If you are unlucky enough to be injured by a firework this Bonfire night, or at any time during the year, make sure you report the injury promptly to the Event organiser.
If you consider your injury may have arisen due to the fault or negligence of another party then get in touch. Contact Stephanie Watson on 0131 297 5988 or swatson@thorntons-law.co.uk. Alternatively, contact one of our specialist personal injury lawyers on 0800 731 8434 who will be pleased to assist further or click here for further information.