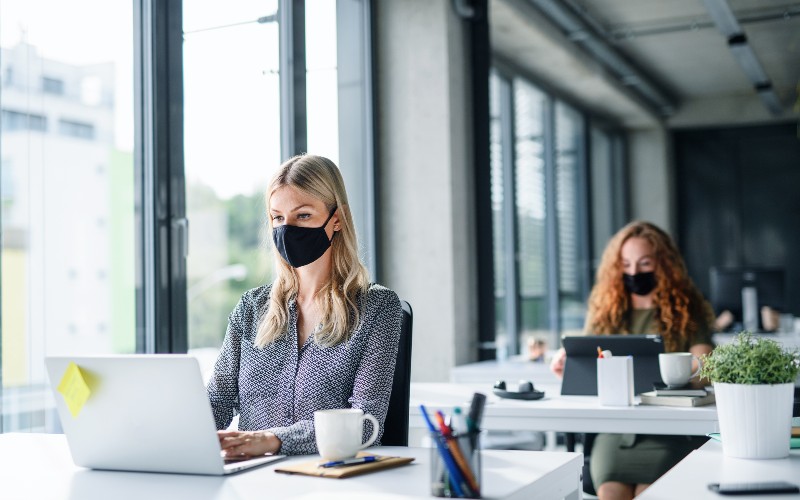 With the remaining COVID 19 restrictions set to be lifted in Scotland from 21st March 2022, it is important to think about what this means for employers re-opening their doors in a fuller sense and welcoming employees back to the office.
We have progressed from (those who were able to) fully working from home since the start of the pandemic in March 2020 to employees being slowly encouraged back into the workplace on a hybrid basis. The need for hybrid working has arisen to allow employees to return to the workplace on a rotational basis, whilst still maintaining the requirements of social distancing. However, now that the final remaining legal restrictions will be lifted in a few weeks, many employees will be able to return fully to the workplace in a pre-pandemic manner, without the need for any protective measures. So, with that in mind, what should employers be doing to prepare themselves, their workplace and their employees for getting back to work?
Well, the first thing for businesses to consider is whether employees need to return to the workplace at all. If they have been working from home during the pandemic and both the employer and the individual employee are happy to continue this arrangement, then of course this may be an option. A second option is to implement a permanent hybrid working pattern, meaning employees will have either set days where they work from home and set days where they attend the workplace, or a more flexible arrangement based on whether or not they need to be in the office on a given day. The final and new option now available as a result of the restrictions lifting, is for employees to return wholly to the workplace.
Difficulty arises where there is a clash between what an employer may see as the best arrangement for the business, and what an employee thinks would be best for them. Employees may have reservations about returning to the office either on a hybrid or full time basis after such a long period of being told to stay at home. Employers should allow for a phased return to the workplace where possible and discuss what the "new normal" is for their business. We encourage employers to speak with employees on an individual basis and come up with a solution that works for both parties. However, what do employers do if they have discussed this with an employee and they unreasonably refuse to return to the workplace?
If an employee refuses to return to the workplace and the employer is unable to come to an arrangement that works for both parties, can the employer force the employee to return to the workplace? It depends on what their contract of employment says (I know, a typical lawyer answer – but it does!). If the contract says that they are based fully in the workplace, then the bottom line is that the employee can be compelled to return to the workplace (with a few exceptions). Simply because they have been working from home (either fully or partly) during the pandemic does not create an implied term in their employment contract that they are entitled to now work from home. This was just a temporary measure, which was necessary as a result of the pandemic. However, provided they are eligible to make a flexible working request, they can request that they work from home fully or on a hybrid basis. Employers do not have to approve the request, but employees do have a stronger argument if they have been working from home successful during the pandemic.  There are also a limited number of grounds on which an employer can refuse a flexible working request, and it is important that these are considered carefully before deciding whether or not a request can be granted.
One of the consequences of the requirement to work from home is that for many people with pre-school or school age children, childcare arrangements may have changed substantially and it is often not easy to make alternative provision quickly.  As such, employers will have to be reasonable and recognise that some time may be required before an employee can return to the office permanently, or on a different basis.
Employers also have specific obligations to make reasonable adjustments for employees with disabilities (in terms of the Equality Act 2010). An employee may seek to argue that by virtue of their disability, a return to work poses a particular risk or detriment for them. In those circumstances an employer needs to carefully consider that employee's particular set of circumstances and make reasonable adjustments.
If an employer has met the above obligations and an employee continues to unreasonably refuse to return to work, an employer could consider whether disciplinary action is appropriate. We strongly recommend that you seek employment advice before doing so and this should only be considered if you have exhausted all other options, as a last resort. We advise employers to speak to employees who are reluctant to or refusing to return to the workplace and seek to alleviate the concerns these employees may have. By keeping employees informed about discussions regarding returning to the workplace, highlighting any changes to the workplace and engaging in a sympathetic dialogue with employees, it should be possible to help employees re-adjust back into the workplace. Given the length of time many employees have been working from home it is understandable that some are worried and/or anxious about returning to the office and it is in employer's interests to work with their employees to overcome that.
For more information or assistance please contact Noele McClelland or Kerri McIver in Thorntons specialist Employment Law team on 03330 430350.