Sarah Cooper
Solicitor | Dundee
Dispute Resolution & Claims, Professional Negligence
---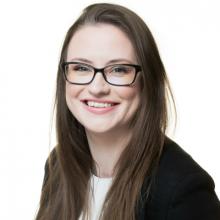 ---
A Solicitor in our Commercial Litigation team, Sarah works closely with Partner, Gillian Buchanan. She advises on a wide variety of commercial litigation matters including debt recovery, guardianships, contract disputes, landlord/tenant and property disputes, using the Commercial Court as appropriate. She also regularly appears at Dundee Sheriff Court and has broad advocacy experience. 
Sarah has a particular interest in regulatory work and defends professionals before fitness to practice hearings, and misconduct hearings.  In particular, Sarah has successfully defended numerous clients where a complaint about their fitness to practise has been brought before the Scottish Social Services Council (SSSC) and is routinely instructed to represent workers interests at temporary orders hearings and impairment hearings.  Sarah experience has allowed her to build up sound knowledge of all stages of the SSSC fitness to practise procedure and rules.  
Sarah studied law at the University of Stirling and received her Diploma in Professional Legal Practice from the University of Aberdeen. She also holds an LLM in International Commercial Law from the University of Dundee and an LLM in Business and Legal Ethics from the University of Cergy-Pontoise in Paris.
Sarah also has broad academic legal experience. She lectured at the University of Abertay and the University of Cergy-Pontoise in Paris prior to entering the profession.  
---
Sarah Cooper's Blog Entries
If you work within the social services or care sector in Scotland you are likely to come under the regulation of the Scottish Social…
---
Posted on 23rd August 2019
---
Mrs M

From my very first meeting with Sarah she was professional, welcoming and very knowledgeable of the SSSC. Sarah made me feel at ease, gave me excellent advice and represented me when I appeared in front of the panel for a Temporary Suspension Order for Fitness to Practice. Sarah presented herself in a very professional manner and delivered excellent submissions to the panel. I was extremely happy when no order would be imposed on my registration. Sarah kept me fully informed throughout the whole process and her understanding allowed me to work with her to achieve a welcoming outcome. I would highly recommend Sarah to anyone.
---