Posted on Aug 04, 2016 in Firm News by Jane Davidson
---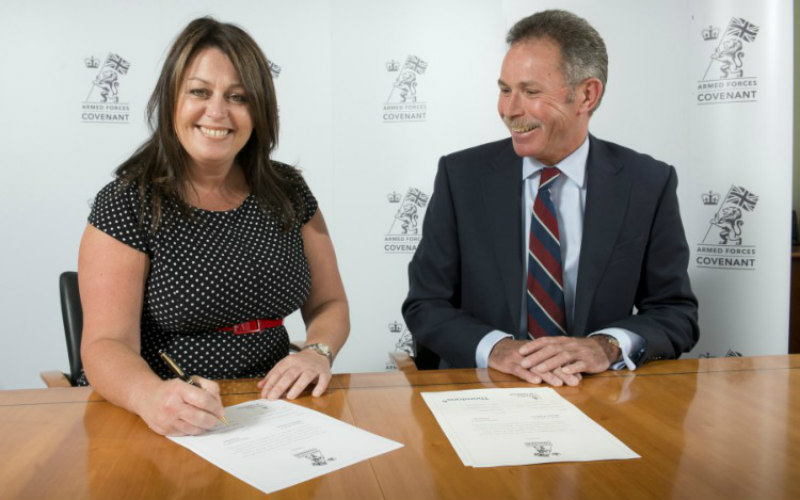 Dundee-based legal firm Thorntons has signed the UK Armed Forces Covenant.
In doing so Thorntons has made a commitment to support the country's servicemen and women wherever and however it can and to ensure no member of the Armed Forces should suffer any disadvantage as a result of their service.
The signing – by the firm's Director of Marketing Jane Davidson – took place at the group's HQ in Dundee with the document co-signed on behalf of the Ministry of Defence (MoD) by Group Captain (Retd) Dai John, Director Engagement with Highland Reserve Forces' and Cadets' Association (HRFCA).
The event was organised by HRFCA and attended by the organisation's Regional Employer Engagement Director Ron Macgregor. Also present from Thorntons were Scott Milne, joint managing partner; Lynn Smith, head of HR, and Edinburgh-based partner Christian Melville.
Mr Melville, a former captain in the Royal Scots Dragoon Guards and a UK Director and Charity Trustee of Combat Stress, was keen for Thorntons to show its support.
He said: "We are proud to be one of the many UK businesses and the first Scottish law firm to sign the Covenant and pledge our support to the Armed Forces.
"The wide variety of vital front-line abilities which veterans and reservists are trained in such as negotiation, leadership and team building can be an invaluable asset in the day-to-day workplace and it's important for businesses to provide a helping hand to them as they apply those skills in the best way possible."
Group Captain John added: "We are absolutely delighted that by signing the Armed Forces Covenant Thorntons has demonstrated its commitment to the Armed Forces community. The involvement of such a well-known and respected firm can only help to raise the profile of our Regular and Reserve forces across Scotland, and stands to contribute significantly to ensuring that those who serve, have served, and their families, are valued and face no disadvantage compared with other citizens. We very much look forward to working together with Thorntons in pursuit of our common goals."
For more information on the Armed Forces Covenant and the Defence Employer Recognition Scheme contact Ron Macgregor on 01382 631026 or email hi-empsp@rfca.mod.uk
Stay updated
Receive the latest news, legal updates and event information straight to your inbox
Stay Updated
See all Firm News articles