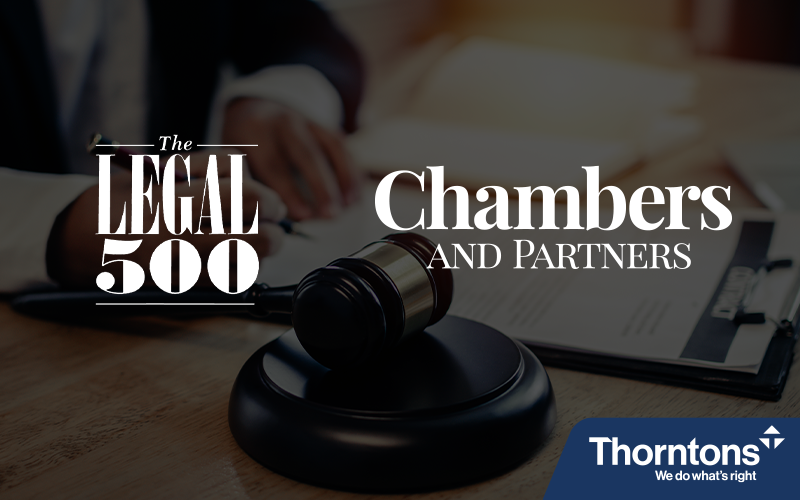 Leading Scottish law firm Thorntons has achieved outstanding rankings for its lawyers and practice areas in the latest editions of industry bibles Legal 500 UK and Chambers.
Thorntons – which has a footprint of 12 offices stretching across Dundee, Perthshire, Angus, Fife, Edinburgh and Glasgow – has been recommended in 12 practice areas by Legal 500, whilst 24 of its lawyers have been named as prominent specialists in their field.
Aimed at potential clients and buyers of legal services, the Legal 500 UK positions itself as the foremost guide to lawyers across the country and its website is visited more than four million times each year.
Thorntons received an equally glowing report in the 2022 Chambers UK Legal Directory, which highlights the work of the UK's finest law firms, with 14 practice areas highlighted and 19 lawyers highlighted as experts.
Lesley Larg, Managing Partner at Thorntons, was named by Legal 500 for her work in education, intellectual property and IT and Telecoms, and by Chambers for intellectual property and media and entertainment.
She said: "Achieving such outstanding success in publications as prestigious as Legal 500 and Chambers is testament to the hard work, perseverance, innovation and commitment to excellence of everyone at the firm.
"Thorntons has grown considerably in recent years, both organically and through a number of strategic mergers, but our focus on investing in the best available talent to deliver exceptional results for our clients has never wavered – and this has been recognised by the leading guides for the legal profession."
Thorntons has been recommended in the following 12 practice areas by Legal 500: Agriculture and Estates, Commercial Property, Corporate and Commercial, Education, Employment, Family, Health, Intellectual Property, IT and Telecoms, Media and Entertainment, Personal Injury – Pursuer, and Social Housing.
And 24 of the firm's lawyers are recommended as specialists in their field by Legal 500:
Kenneth Mackay, Lesley Mearns, Chris Lindley, Susan Duff (NEW), Robin Dunlop (NEW) and Debbie Dewar (NEW) – Agriculture and Estates

Ewan Miller and Janet McIntyre – Commercial Property

Michael Royden, Chris Byrne and Alistair Lang – Commercial and Corporate

Lesley Larg, Noele McClelland, Loretta Maxfield and Robbie Francis – Education

Noele McClelland, Debbie Fellows and Chris Phillips – Employment

Sandra Sutherland, Lucy Metcalf and Angela Wipat – Family

Michael Royden, Ewan Miller and Kim Campbell – Health

Liam McMonagle, Lesley Larg, Alistair Lang and Loretta Maxfield – Intellectual Property

Liam McMonagle, Lesley Larg, Alistair Lang and Neil Falconer (NEW) – IT and Telecoms

Lesley Larg, Alistair Lang and Liam McMonagle – Media and Entertainment

Gordon McBean, Clare Macpherson, Michelle Adam, Richard Poole and Kathleen-Erin Lawson – Personal Injury (Pursuer)

Graham Wilson, Chris Allan and Noele McClelland (NEW) – Social Housing
The Chambers UK Legal Directory is published yearly and is based on feedback and recommendations from clients and peers, and it highlighted Thorntons and its people in the following areas:
Agriculture and Rural Affairs –

Elizabeth Barr, Chris Lindley, Lesley Mearns (new) and Kenneth Mackay

Education: Institutions – Lesley Larg

Employment – Noele McClelland, Debbie Fellows and Chris Phillips (new)

Family – Sandra Sutherland and Lucy Metcalf (both new)

Healthcare – Michael Royden and Ewan Miller, with Kim Campbell highlighted as an associate to watch

Intellectual Property – Lesley Larg and Liam McMonagle

Media and Entertainment – Lesley Larg

Personal Injury - Mainly Claimant – Gordon McBean, Caroline Kelly (new), Clare Macpherson and Michelle Adam

Product Liability – Clare Macpherson

Real Estate – Hugo Allen