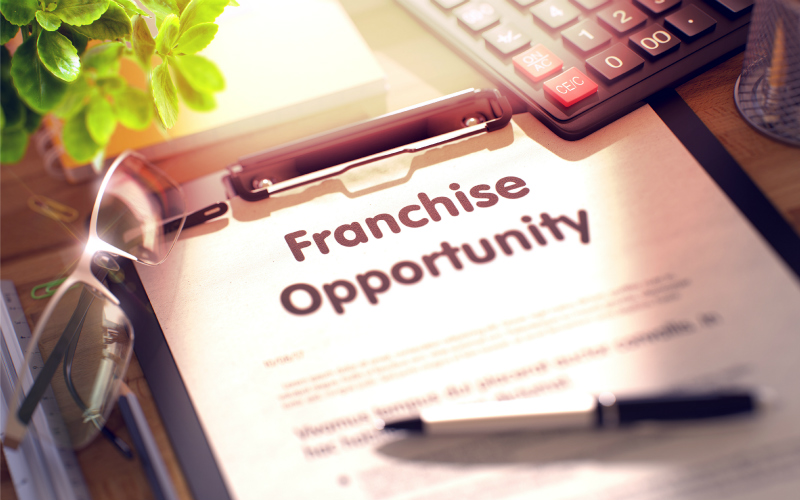 Franchising is a common way of scaling a business quickly.  The world's largest franchises are household names: McDonald's, Subway, Marriott, Domino's, Hertz.  Franchising also operates on a smaller scale: if you take children to swimming or cricket lessons or use a car valet service you may find that you're dealing with a franchised business.
For many, the appeal of franchising is obvious.  Many people who have benefited from it are only too happy to recount how well it has worked for them: not all business strategies have so many evangelists. 
From a business owner or 'franchisor's' point of view, franchising offers an opportunity to scale up a business quickly by packaging its unique features into an identifiable, often brand-led business model and allowing others to develop it by meeting the capital expenditure needed to do so.  The franchisor can then collect payments for marketing, franchise fees and (usually) a percentage of turnover.  Many new businesses are designed to be franchised from the outset.
There are also advantages for a franchisee in using a business model with a successful track record, strong branding and effective processes.  Franchises often come with technology platforms such as online ordering technologies, which might be difficult or costly for a small business to develop.
When considering franchising, it is important to consider if it is the right way to grow a business.  Is the business scalable as a franchise?  Are the systems and processes which make up the business model capable of being documented in a 'manual' and used in multiple locations? 
Any potential franchisee needs to consider whether buying into a franchise is a better use of time and money than starting a business from scratch.  Is the business model proven to be successful?  What set-up costs are required?  Will you have any control over key business decisions such as where it is located and how products are prepared and priced?  Are any geographical restrictions appropriate?  Are the financial projections and business plans realistic?  For example, just because a certain product or service sells strongly in one part of the country doesn't mean there is a market for it nationwide.
Legally, a franchise will be documented via a franchise agreement entered into between the parties. This will usually determine how the business is to be run, where supplies are to be purchased, and within what geographical boundaries the business can be operated.  These documents are commonly, indeed notoriously, very protective of the franchisor and will often include audit, inspection and termination rights to ensure the franchise is tightly controlled.  It is important that a franchisee takes legal advice on that agreement and considers carefully whether the franchise is worth buying into: I have seen a few people completely put off by the process of going through a franchise agreement in detail.  Setting up a business is never free of risk but it is important to compare the freedom and control of going it alone with the less flexible but potentially easier journey of a franchise.
Liam McMonagle is a specialist Intellectual Property, Technology and Media Solicitor. We are always delighted to talk without obligation about whether we might meet your needs. Call Liam on 0131 225 8705 or email lmcmonagle@thorntons-law.co.uk