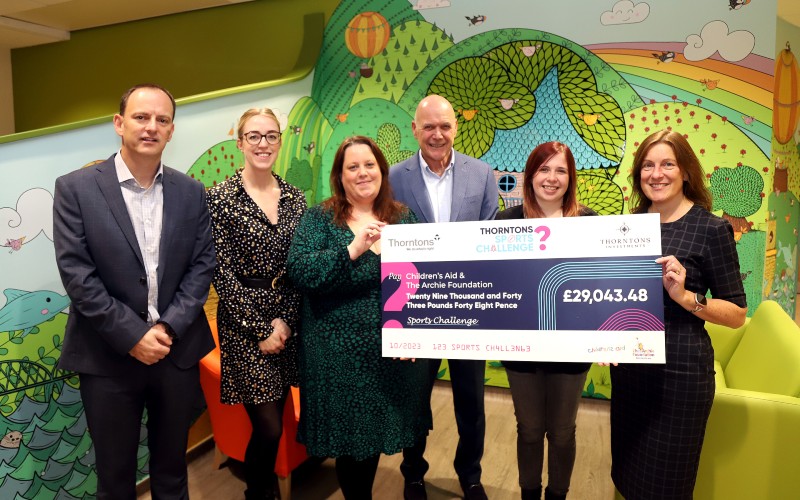 Thorntons' Sports Challenge Dinner handed over an incredible £29,000 to two local charities following the sell-out event at the Apex City Quay Hotel earlier this year.
The two charities, The Archie Foundation and Children's Aid, will split the money evenly to be used for a range of projects helping children across Scotland.
Thanks to the generosity of event supporters over the past six years, just under a quarter of a million pounds has been raised for good causes with this year's chosen charities benefiting from the evening of fundraising.
The dinner, organised by Thorntons Solicitors and Thorntons Investments, saw more than 350 people packed into the venue to test their sporting knowledge and observational skills in the Question of Sport style quiz.
Former Scottish Rugby captain Andy Nicol and Scottish football internationalist Alan McInally hosted the proceedings which saw Henderson Loggie win the top prize.
Nicola McCafferty, Partner at Thorntons and committee member said: "The Sports Challenge Dinner is one of our calendar highlights and having returned this year following a three-year hiatus due to the Covid19 pandemic it made the evening even more special.
"Having sporting royalty join us in the form of rugby legend Andy Nicol and former player and Sky Sports pundit Alan McInally was brilliant.
"The Dundee business community always turns out to support local charities who do amazing work across the city. To have raised almost £250,000 for children's charities since we first ran the Sports Challenge dinner is extremely rewarding and I'd like to thank everyone who gave generously and made this event such a success."
Jamie-Leigh Cook, from The Archie Foundation said: "We extend our gratitude to every single person involved in raising such a remarkable sum of money through this exceptional event. The funds raised will support Archie's Child Bereavement Service, enabling us to provide direct and immediate support for children across Tayside who have lost someone dear to them. We estimate that there are around 2,000 school-aged children in the region who have suffered the loss of a parent or sibling and it is thanks to fundraising at events such as Thorntons Sports Challenge that Archie can be here for them when it matters most."