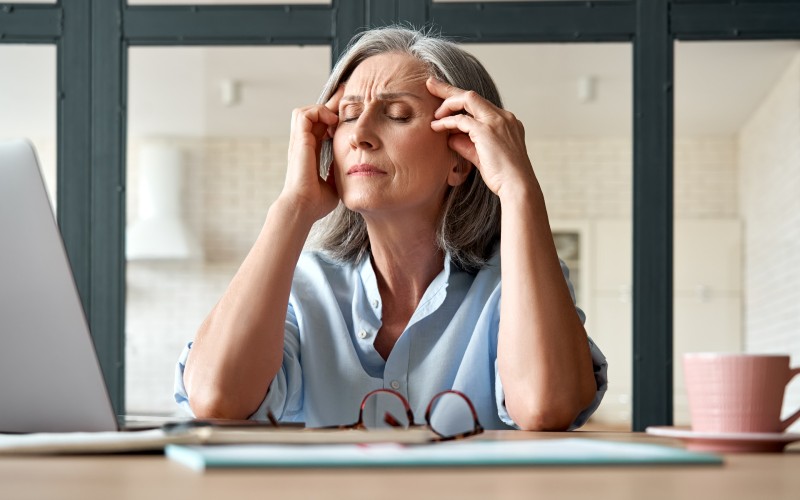 This year we're raising awareness for menopause as we celebrate International Menopause Awareness Day on Monday 18th October. Even today there is a taboo surrounding speaking out about menopause but slowly that is being broken down, and with the help of a number of well-known women we are starting to hear more about it in the press. BBC Breakfasts' Louise Minchin recently opened up about her menopausal experience with the hope of giving women (and men) the confidence to speak up on the topic.  Penny Lancaster, one of the hosts of Loose Women, spoke emotionally on the show about her experiences with the symptoms of the menopause, particularly in relation to anxiety.  Indeed, on 27 September 2021 Loose Women launched their own MENOPAUSE Manifesto:
Mandatory Training for GP's
Ending the menopause taboo
No more HRT prescription charges
Open conversations with our loved ones
Proper education in schools
Awareness of our rights
Support within the workplace
Ending the stigma of asking for help
Menopause is a natural part of being a woman, and is brought on as a woman's oestrogen levels decline. Although the average age for a woman in the UK to reach menopause is 51, it is possible to go through menopause earlier. Most women going through menopause will experience some symptoms, such as hot flushes, night sweats, difficulty sleeping, low mood or anxiety and/or problems with memory and concentration. This list isn't exhaustive and each woman will have their own, unique experience.
So, why is this relevant to employment law I hear you ask? Well, women of the menopausal age group are the fastest growing demographic in the workplace in the UK with 8/10 woman in this age group now being in the workforce, compared with 20 years ago. Although there haven't been a great number of cases reaching the employment tribunal, we are certainly seeing an increase - in 2018 there were only 5 cases in the tribunal relating to menopause, rising to 16 cases in 2020. The types of claims we are seeing are constructive dismissal claims and discrimination claims including sex, age and disability discrimination.
I suspect the reason behind this rise in numbers is a combination of there being more women of this age group in the workforce, but also the cultural shift we are seeing with more women being willing to discuss (and admit to) their symptoms and, generally, there being more awareness.  Also let's face it, without celebrities such as Davina McCall, Gabby Logan, Michelle Obama, and Oprah Winfrey among others openly discussing it, it's questionable whether we would be seeing a more open discussion on this issue.
Let's take a look at how mistreatment of menopausal employees can amount to disability discrimination. In the recent case of Daley v Optivia 2021, Ms Daley was a 51-year-old employee who was suffering from menopausal symptoms including fatigue, sleeping difficulties and problems with memory and concentration. Although she had also been diagnosed with a thyroid condition, her symptoms were thought to be primarily in relation to the menopause. She made a claim to the employment tribunal that her employer failed to make reasonable adjustments in light of her symptoms, which she petitioned amount to a disability.
Section 6 of the Equality Act 2010 defines a disability as "a physical or mental impairment that has a 'substantial' and 'long-term' negative effect on your ability to do normal daily activities." 'Substantial' means that it is "more than minor or trivial", for example it may day you longer than average to carry out a household task; and 'long-term' means 12 months or longer. In Ms Daley's case, her symptoms had been effecting her for longer than 12 months and they were effecting her on day-to-day activities such as concentrating and sleeping. She was therefore able to persuade the tribunal of her case.
In A v Bonmarche Ltd 2019, the claimant was employed by Bonmarche as a Senior Supervisor. Her manager passed inappropriate comments in relation to her going through the menopause, such as calling her a "dinosaur" and encouraged other staff members to join in by laughing at his comments. The employer underwent a restructure and although her role was unaffected, other staff members were encouraged to apply for her position. The claimant had been absence from work on numerous occasions due to menopausal symptoms but she was able to return to her role on a phased basis. However, her manager failed to accommodate the phased return and scheduled her in for her full hours. Due to the stress this caused, she suffered a breakdown and resigned. She made a claim to the employment tribunal on the basis that that she had suffered harassment and bullying in relation to both age and sex discrimination, which the employment tribunal agreed with and she was awarded £28,000.
Not only are menopausal symptoms a matter for consideration, so too are perimenopausal symptoms as was the case in Davies v Scottish Courts and Tribunals Service 2018. Ms Davies worked as a Court Officer and suffered significant perimenopausal symptoms for which she was prescribed granulated medication to put into water. She had diluted the medication into a jug of water on her desk in the court and then she exited the court briefly. When she returned to her desk, she noticed that her jug had been emptied but that two men in the court room had glasses of water and she mistakenly thought that they were drinking the water containing her medicine. However, her medication turned water pink and the water the two men were drinking was not pink and therefore could not have been her medicated water.
Nonetheless Ms Davies was dismissed for gross misconduct, despite the fact that an occupational health report confirmed that her memory and concentration was affected as a result of her perimenopausal symptoms. The employer failed to taken into consideration the impact menopause had on her in terms of her behaviour and therefore assumed that she should have realised that as the water the men were drinking was not pink, it could not have been her medicated water.
The employment tribunal found in favour of Ms Davies, acknowledging the employers' failure to take into consideration the evidence contained in the occupational health report. As such, she was awarded £19,000 of which £5,000 was for injury to feelings and the remainder for back pay.
For some, suggesting the menopause is a disability is controversial.  It is of course an inevitable part of ageing for women.  However, unlike pregnancy (which is a protected characteristic under the Equality Act) and in most cases is time limited to 9 months or so, peri- and menopausal symptoms can last for years for some women. Therefore, whilst the menopause of itself will not amount to a disability under section 6 of the Equality Act 2010, for all women going through it, its symptoms may be a disability for those suffering significant symptoms for 12 months or longer. As previously mentioned, woman of the typical menopausal age group is the fastest growing demographic in the workplace so it is imperative that employers treat menopausal employees appropriately, providing the necessary support and making reasonable adjustments where needed.
We recommend that employers ensure managers are trained to understand the impact menopause can have on an employee's ability to work. Even if a manager has gone through menopause themselves or has experienced a close relative going through it, they should not assume that their experience of it will be the same as others. This was the case in Merchant v BT 2012 where Ms Merchant was being performance-managed for capability concerns. She had a report from her GP setting out her menopausal symptoms, but regardless her employer chose to ignore this report and dismissed her on the grounds of poor performance. The employer mistakenly relied on his personal experience of his wife going through the menopause, rather than taking Ms Merchants' personal circumstances into account when assessing her performance. The employer therefore failed to follow their own capability policy properly by discounting medical evidence, and the tribunal found that the employer would not have treated a male employee, in comparable circumstances suffering with concentration issues, in the same way.
In addition to training, employers should establish options for seeking support such as through a manager, a well-being champion and giving the option to consult a female manager is they do not feel comfortable speaking with a male manager about it. Employers should have clear sickness procedures which are sufficiently flexible for menopause-related sickness absences, or they may wish to consider having a specific standalone policy covering menopause which sets out the various support channels and suggested reasonable adjustments. Risk assessments should also consider the specific needs of menopausal workers and ensure the environment is suitable to work in considering their symptoms.
Insight from Noele McClelland, Partner and Kerri McIver, Solicitor in Thorntons specialist Employment Law team. For more information contact Noele, Kerri or any member of the Employment team on 03330 430350.