---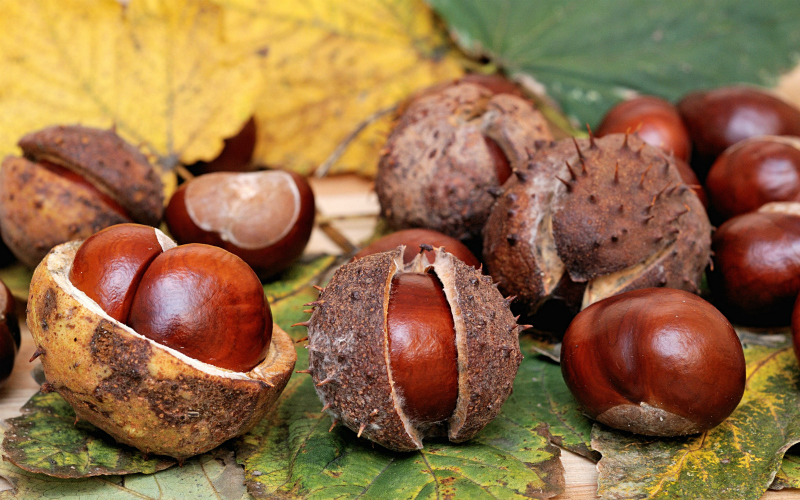 With the World Conker Championships 2019 taking place in Northamptonshire this Sunday the 13 October, closely followed by the Scottish Champions on the 19th, it is an apt time to revisit conker safety and the long running myth surrounding this autumnal game. Back in 2004 it came to light that some schools were only allowing pupils to participate in conker fights if they were wearing safety goggles or even padded gloves and there were rumours that the Health and Safety Executive had banned conker fights all together for fear of injury. Whilst it is up to each school to set their own policy for gameplay, it seemed like they were taking a hammer to crack a nut with such an extreme reaction. Fortunately the HSE were quick to dispel the myth and make light of this old chestnut of a story!
That said it seems there are an ever growing number of scenarios where a customer service issue, unwillingness to change or even laziness are being disguised with the excuse given that it is down to 'health and safety law'.
The HSE operates a myth busters section on their website to try and breakdown some of these issues and assess whether there is a genuine health and safety concern or an overzealous policy maker. From a chip shop refusing to let a customer put their own salt and vinegar on their meal and a bar who refuses to serve salt and lemon with their tequila shots, to children at school being banned from eating packed lunches outdoors and even a cafe refusing a parent access whilst their baby was using a dummy there are certainly some unique queries! However, some of these myths do stem from good intentions and a recognition that there is a potential risk of harm to those involved.
For example, with wedding season coming to an end, one of the myths that often rears its head over the summer is that confetti is banned under health and safety legislation. Again the HSE have dispelled this myth and confirmed that no such law exists with any decision to ban confetti resting with the wedding venue. Whilst some venues may allow confetti which is biodegradable or flower petals (based on an environmental decision) and will let your photographer snap that perfect 'confetti shot', it is becoming more and more common that venues won't allow it on their premises. Whilst this might make for some frustrated brides and grooms, it can actually be a sensible decision. By throwing confetti or petals then you can introduce a slip hazard for you, your guests or even employees. Even the use of bubbles can result in a slippy aisle or dancefloor meaning that venue staff would need to act quickly to clear up any debris or risk an accident occurring. Therefore, whilst it is a myth that confetti is banned under health and safety law, venues are entitled to invoke their own policy and may have good reason for doing so.
On the theme of celebrations and whilst it may still be a bit early for the 'C' word, one recurring myth each year is that Christmas decorations are banned within office buildings on the grounds of health and safety. This is a myth which grew arms and legs when some companies had understandably issued warnings to their employees not to put themselves at risk when decorating and avoid standing on unstable surfaces or stretching up too high. This means that employees should be careful to avoid standing on chairs or tables to decorate and instead use a step ladder. They should also be careful not to interfere with any fire or smoke alarms. However, this common sense approach was taken over by Chinese whispers until a rumour was circulating that all office Christmas decorations were banned under the auspices of health and safety law. There is no outright ban on Christmas decorations, or party bunting for that matter, but it is always recommended that these are hung sensibly and safely. Certainly here at Thorntons we love a bit of Christmas cheer and lights to brighten up our offices in December! If Christmas decorations have been banned within your workplace then it is for management to explain their reasons and not just hide behind the catch all of "elf and safety"!
Lynsay McFarlane is a Senior Solicitor in our specialist personal injury team. If you, or a member of your family has been involved in an accident and you would like to discuss a no win no fee personal injury claim please contact Lynsay on 01382 346792.
Stay updated
Receive the latest news, legal updates and event information straight to your inbox
Stay Updated
See all Personal Injury articles