---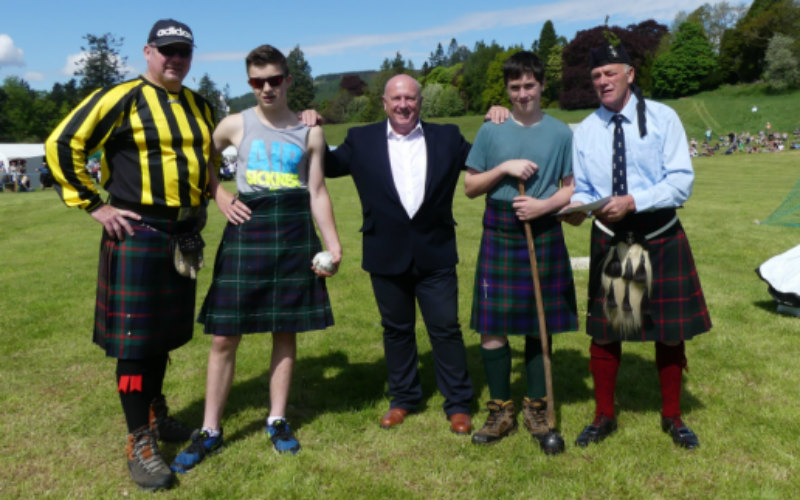 Thorntons shows its support for a popular Highland Games event by providing financial backing.
Thorntons has agreed to provide sponsorship to Perthshire Highland Games, which includes 14 separate events across the county of Perthshire over the next four months.
The firm will sponsor the Junior Heavyweights at the Perthshire Games, aimed at under 17's, which celebrate the very best of Perthshire's traditional Highland competitive sports, such as the caber toss and tug-o-war.
The sponsorship underlines Thorntons commitment to supporting local groups in its areas of operation.
Colin Emslie, Thorntons' Property Manager in Perth, said: "At Thorntons we are always looking for ways to support local groups and activities that bring the community together. I am excited Thorntons are promoting this initiative and look forward to seeing home grown young talent engaging in the events and perhaps continuing onto the adult Highland Games circuit keeping this traditional sport alive for all to enjoy in the years to come.
"The Perthshire Highland Games is a fantastic series of events enjoyed by thousands of people across the county and beyond.
"We are especially proud to be able to sponsor the Junior Heavyweights, who will ensure that there is a new generation of competitiors for future events."
Stevie Ryder, chairman of Perthshire Games, said: "We are delighted to have a highly regarded local company such as Thortons to support our junior heavyweights this year.
"Through their support we have been able to introduce this exciting new development. We hope that the Thortons Junior League will bring the next generation of talented athletes through onto the Highland games scene to maintain our proud traditional cultures.
"Without their backing it would not be possible."
The Perthshire Highland Games take place across Blair Atholl, Blackford, Alyth, Kenmore, Killin, Lochearnhead, Aberfeldy, Perth, Rannoch, Crieff, Strathardle, Birnam, Blairgowrie and Pitlochry.
Services associated with this entry
Stay updated
Receive the latest news, legal updates and event information straight to your inbox
Stay Updated
See all Firm News articles
See all Property articles