---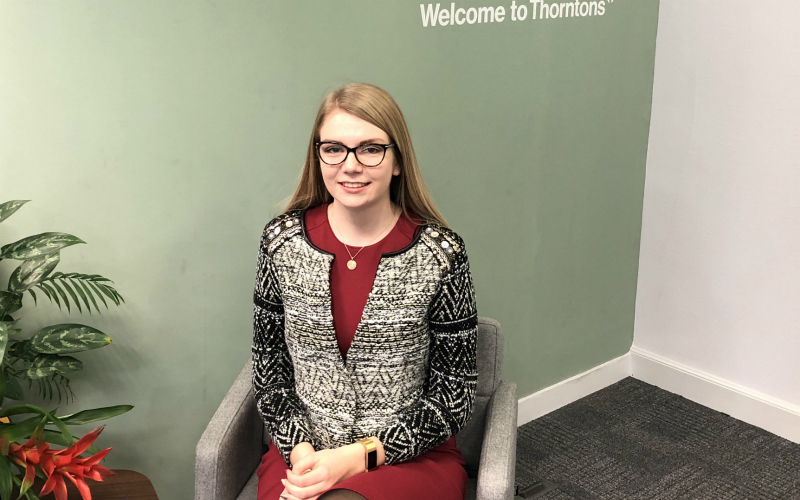 In November 2018 I was delighted to accept an offer to complete my traineeship with Thorntons beginning in September 2019. That same week I was given an invitation to attend the staff Christmas party in Dundee a few weeks later, which was a lovely introduction to the firm. This was a great opportunity not only for me to meet the other trainees who are going to be starting at the same time as me, but also to meet other members of staff across the entire firm. I was able to speak with some of Thorntons current trainees which gave me the chance to gain a real insight into the type of work I will be given and the support provided to new trainees. This was a lovely experience to mix with future colleagues and I came away from the night feeling even more excited to be starting my legal career off with such a lovely firm of people!
I graduated with a LLB (Honours) from the University of Edinburgh in July 2018 and at the moment I am currently studying the Diploma in Professional Legal Practice at the University of Strathclyde. In my second semester, I chose an optional "Work Based Learning" elective which affords me the opportunity to spend a few hours each week getting some hands on experience in a law firm. To me, this seemed like a fantastic chance to practice the skills I have been learning on the Diploma the past few months, ahead of my starting life as a Trainee Solicitor. I contacted Thorntons HR team, who were kind enough to arrange for me carry out the elective in the Edinburgh office and organised a mentor to oversee the elective.
My Experience
I began a ten week placement in January 2019 and I am now just over half way through. For the past six weeks I have been spending Friday morning's in the Dispute Resolutions and Claims department with my mentor Michelle Adam. Michelle has been wonderful preparing tasks for me to complete every week and providing me with ongoing support and advice in order to help me meet learning objectives for my course. Each week I am given a new task or two to work through, such as researching case law or reviewing client files.
So far I have completed a variety of different work, from personal injury and immigration, to family and civil matters. Working for different departments within the office has allowed me to meet and speak with many members of the team who have all played a part in supporting me to achieve my outcomes for the elective. More specifically, some of the tasks I have worked on include reviewing medical records for clients who have suffered hearing loss at work; assessing immigration files and researching the complex law surrounding immigration claims; and researching specific matters such as liferent issues and matrimonial property disputes.
Insights from a Newbie
This wide variety of experience has been essential to my development as a future trainee. Not only is the work in itself helping me to develop the skills required as a trainee alongside my studies, but even more so, the experience of working alongside my future colleagues has been invaluable and has served as a great welcome to the firm itself.
I have learned that at Thorntons there is a true sense of community and staff will go out of their way to help colleagues in any way they can. This ethos has created a culture of support within the firm where everyone helps each other to reach their goals, and I cannot think of a better environment in which to develop my professional skills as a trainee.
No doubt every graduate beginning their first job will find the experience daunting and the few days leading up to their first day of work they will be fretting over the thought of it. However, this opportunity has given me a head start by providing me with the chance to get to know the firm, including its people and the environment, in advance. I feel incredibly fortunate to have been given the opportunity to gain this first-hand insight into life at Thorntons. I cannot wait to begin my traineeship with the firm in September and I hope that I can contribute to the wonderful ethos and sense of family that is truly fostered between the members of the Thorntons team! 
Kerri McIver, Future Trainee Solicitor.
Stay updated
Receive the latest news, legal updates and event information straight to your inbox
Stay Updated
See all Firm News articles